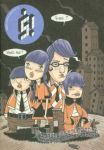 Kaspars Groševs (Latvia) Artists: Aisha Franz (Germany), Anna Sailamaa (Finland), Ernests Kļaviņš (Latvia), Hironori Kikuchi (Japan), Ignacio Serrano (Spain), Ines Christine Geißer (Germany), Johan Klungel (the Netherlands), Kolbeinn Karlsson (Sweden/Iceland), König Lü. Q. (Switzerland), Maija Līduma (Latvia), Mārtiņš Zutis (Latvia), Oļa Vasiljeva (Latvia), Olegti (Russia), Reinis Pētersons (Latvia), Rūta Briede (Latvia), TeER (Germany) and Yoshi - See more at: http://www.komikss.lv/books/s/#sthash.FHHWbM0L.dpuf
fadsfaKaspars Groševs (Latvia) Artists: Aisha Franz (Germany), Anna Sailamaa (Finland), Ernests Kļaviņš (Latvia), Hironori Kikuchi (Japan), Ignacio Serrano (Spain), Ines Christine Geißer (Germany), Johan Klungel (the Netherlands), Kolbeinn Karlsson (Sweden/Iceland), König Lü. Q. (Switzerland), Maija Līduma (Latvia), Mārtiņš Zutis (Latvia), Oļa Vasiljeva (Latvia), Olegti (Russia), Reinis Pētersons (Latvia), Rūta Briede (Latvia), TeER (Germany) and Yoshi - See more at: http://www.komikss.lv/books/s/#sthash.FHHWbM0L.dpuf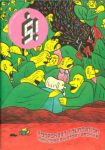 Kaspars Groševs (Latvia) Artists: Aisha Franz (Germany), Anna Sailamaa (Finland), Ernests Kļaviņš (Latvia), Hironori Kikuchi (Japan), Ignacio Serrano (Spain), Ines Christine Geißer (Germany), Johan Klungel (the Netherlands), Kolbeinn Karlsson (Sweden/Iceland), König Lü. Q. (Switzerland), Maija Līduma (Latvia), Mārtiņš Zutis (Latvia), Oļa Vasiljeva (Latvia), Olegti (Russia), Reinis Pētersons (Latvia), Rūta Briede (Latvia), TeER (Germany) and Yoshi - See more at: http://www.komikss.lv/books/s/#sthash.FHHWbM0L.dpuf
fadsfaKaspars Groševs (Latvia) Artists: Aisha Franz (Germany), Anna Sailamaa (Finland), Ernests Kļaviņš (Latvia), Hironori Kikuchi (Japan), Ignacio Serrano (Spain), Ines Christine Geißer (Germany), Johan Klungel (the Netherlands), Kolbeinn Karlsson (Sweden/Iceland), König Lü. Q. (Switzerland), Maija Līduma (Latvia), Mārtiņš Zutis (Latvia), Oļa Vasiljeva (Latvia), Olegti (Russia), Reinis Pētersons (Latvia), Rūta Briede (Latvia), TeER (Germany) and Yoshi - See more at: http://www.komikss.lv/books/s/#sthash.FHHWbM0L.dpuf
Kaspars Groševs (Latvia) Artists: Aisha Franz (Germany), Anna Sailamaa (Finland), Ernests Kļaviņš (Latvia), Hironori Kikuchi (Japan), Ignacio Serrano (Spain), Ines Christine Geißer (Germany), Johan Klungel (the Netherlands), Kolbeinn Karlsson (Sweden/Iceland), König Lü. Q. (Switzerland), Maija Līduma (Latvia), Mārtiņš Zutis (Latvia), Oļa Vasiljeva (Latvia), Olegti (Russia), Reinis Pētersons (Latvia), Rūta Briede (Latvia), TeER (Germany) and Yoshi - See more at: http://www.komikss.lv/books/s/#sthash.FHHWbM0L.dpuf
fadsfaKaspars Groševs (Latvia) Artists: Aisha Franz (Germany), Anna Sailamaa (Finland), Ernests Kļaviņš (Latvia), Hironori Kikuchi (Japan), Ignacio Serrano (Spain), Ines Christine Geißer (Germany), Johan Klungel (the Netherlands), Kolbeinn Karlsson (Sweden/Iceland), König Lü. Q. (Switzerland), Maija Līduma (Latvia), Mārtiņš Zutis (Latvia), Oļa Vasiljeva (Latvia), Olegti (Russia), Reinis Pētersons (Latvia), Rūta Briede (Latvia), TeER (Germany) and Yoshi - See more at: http://www.komikss.lv/books/s/#sthash.FHHWbM0L.dpuf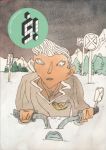 December 2009
Kaspars Groševs (Latvia) Artists: Aisha Franz (Germany), Anna Sailamaa (Finland), Ernests Kļaviņš (Latvia), Hironori Kikuchi (Japan), Ignacio Serrano (Spain), Ines Christine Geißer (Germany), Johan Klungel (the Netherlands), Kolbeinn Karlsson (Sweden/Iceland), König Lü. Q. (Switzerland), Maija Līduma (Latvia), Mārtiņš Zutis (Latvia), Oļa Vasiljeva (Latvia), Olegti (Russia), Reinis Pētersons (Latvia), Rūta Briede (Latvia), TeER (Germany) and Yoshi - See more at: http://www.komikss.lv/books/s/#sthash.FHHWbM0L.dpuf
fadsfaKaspars Groševs (Latvia) Artists: Aisha Franz (Germany), Anna Sailamaa (Finland), Ernests Kļaviņš (Latvia), Hironori Kikuchi (Japan), Ignacio Serrano (Spain), Ines Christine Geißer (Germany), Johan Klungel (the Netherlands), Kolbeinn Karlsson (Sweden/Iceland), König Lü. Q. (Switzerland), Maija Līduma (Latvia), Mārtiņš Zutis (Latvia), Oļa Vasiljeva (Latvia), Olegti (Russia), Reinis Pētersons (Latvia), Rūta Briede (Latvia), TeER (Germany) and Yoshi - See more at: http://www.komikss.lv/books/s/#sthash.FHHWbM0L.dpuf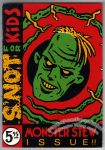 Signed/numbered edition of 101 copies.
Roughly 5¾ × 8½"
Color silkscreened covers
There may be more contributors than listed above.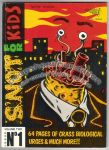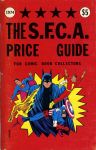 Much of The SFCA Price Guide was lifted from the Overstreet Price Guide.  The ad copy refers to the Overstreet Guide without naming it.  When Overstreet cited G.B. Love with copyright infringement, it was pulled from circulation.  Unsold copies are said to have been destroyed, which is unfortunate, because The SFCA Price Guide contains interesting features such as early checklists on the work of Frank Frazetta, Wally Wood, Al Williamson and Basil Wolverton.
Actual dimensions are 6 x 8-3/4.
Ad is from RBCC #107.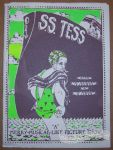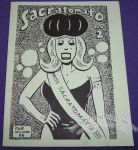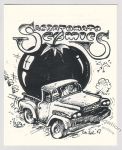 David Miller's cover depicts editor Lynn Hansen.
There may be one other contributor (Cody Boyle?).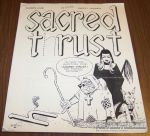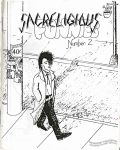 Signed/numbered edition of 100.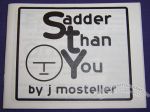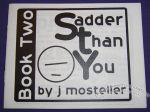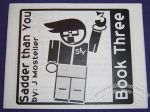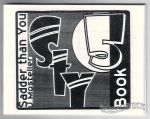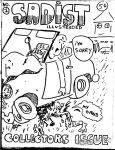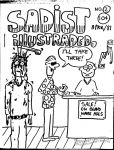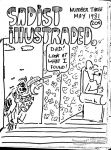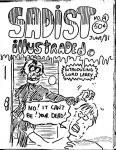 What Is This Site?
A virtual archive of mini-comics, fanzines, small press comics, newave comix and related items. The physical archive, housed at PF headquarters, is being built with personal acquisitions as well as generous donations from supporters. This project is most definitely a work in progress.