Tom Spurgeon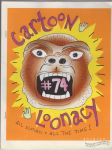 Special "All Simian" issue that came with a Barrel of Monkeys monkey piece taped to the inside front cover.
Characters appearing in art and comics include: Curious George, Dr. Zaius, King Kong, Mighty Joe Young, Grape Ape, Frida Kahlo, George Washington, J. Edgar Hoover, Richard Nixon, Bill Clinton, George W. Bush, William Frawley/Fred Mertz, Felix the Cat, Spider-Man, Prince Randian

Insert included with this issue: Not Elvis #2 mini-comic

Central Mailer for this issue: Brian Buniak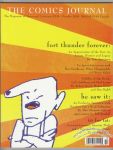 Fort Thunder Forever issue. Interviews with Mat Brinkman, Brian Chippendale and Brian Ralph. Profiles of Jim Drain, Leif Goldberg and Paul Lyons.
Interviews with Keiji Nakazawa.