Mark Schultz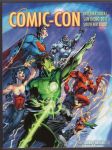 Contents include pieces on the history of comics fandom (with many fanzine profiles and scans), Lee & Kirby, anniversary tributes (Fantastic Four, Antonio Prohias' Spy vs Spy, comics in 1986, Watchmen, Dark Horse Comics, SLG, Bone), more.

Appearances in art by Fantastic Four, Justice League of America, Stan Lee, Jack Kirby, Galactus, the Watcher, Avengers, Inhumans, Black Panther, Sub-Mariner, Silver Surfer, Dr. Doom, Mole Man, Annihilus, Skrulls, Hulk, Spy vs Spy, Batman, Rorshach, Dr. Manhattan, the Comedian, Maus, the Joker, Boba Fett, Hellboy, Ghost, Predator, Concrete, Usagi Yojimbo, Groo, Conan, Willow, Alien, R2-D2, C-3PO, Stormtrooper, Milk & Cheese, Dr. Radium, Bone and more.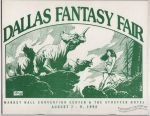 Scheduled guests included Sergio Aragones, Peter Bagge, Steve Bissette, Bob Burden, Dan Clowes, Robert Crumb, Ray Harryhausen, Jaime Hernandez, Gilbert Hernandez, Gill Kane, Martin Nodell, Mark Schultz, Julius Schwartz, Gilbert Shelton, Reed Waller, Al Williamson and many others.
Roughly 8¼ x 10¾".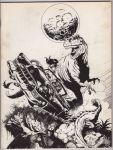 Scheduled guests included Sergio Aragones, Steve Bissette, David Boswell, Chester Brown, Bob Burden, Kurt Busiek, Daniel Clowes, Guy Davis, L Sprague de Camp, Carole Nelson Douglas, Will Eisner, Josh Alan Friedman, Neil Gaiman, Doug Gray, Rick Grimes, Gary Groth, Marc Hempel, Gilbert Hernandez, Jaime Hernandez, Adam Hughes, Jaxon, Denis Kitchen, Todd Klein, Harvey Kurtzman, Terry LaBan, Bob Layton, Jim Lee, Dick Lupoff, Mike Mignola, Lou Mougin, Martin Nodell, Steve Oliff, Tom Orzechowski, Richard Pini, Doug Potter, P. Craig Russell, Dave Schreiner, Mark Schultz, Julius Schwartz, Bill Sienkiewicz, Jim Starlin, Frank Stack, Kim Thompson, John Totleben, Roger Zelazny and many others.
Roughly 8¼ x 10¾".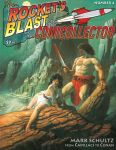 Front cover by Mark Shultz, back cover by Al Feldstein.  
Editorial features include: 
"BLAST FROM THE READERS," featuring a letter from Peter Krupkowski reminiscing about his involvement with SPA FON.   "Fan Fun in the Sunshine State" by Gary Brown, with reproductions of numerous COMIC COMMENTS covers.   "Steve Ditko's Spider-Man" by James Van Hise.   "A Look at Some of the Lee/Ditko Spider-Man Reprints, or Moving the Sixties into the Eighties" by JVH.  "Reed Crandall — Illustrator of Super-Heroes" by JVH.   "The Monster Squad" by JVH.  "The Monster Maker," comic story written by JVH and drawn by Tom Sutton (reprinted from GRAVE TALES #2 (1991).   "A Thousand Heroes with One Face" by Stuart Hopen.  "The Crimson Wings of Silence," preview of a graphic novel written by Stuart Hopen and drawn by Russ Martin.  "Mark Schultz on Drawing Comics" by JVH.  
Ads for:
Al Feldstein limited edition prints
Comics on CDRom
CONAN OF CIMMERIA Vol. 1 by Robert E. Howard
Facsimile pulp reprints by Otis Adelbert Kline
PULP MASTERS
THE BURROUGHS NEWSBEAT
THE FANTASTIC WORLDS OF HP LOVECRAFT  
THE FANTASTIC WORLDS OF ROBERT E. HOWARD
and YE OLDE FANZINE SHOPPE