Don Daynard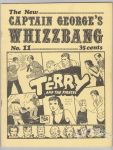 Subjects of this issue include: pulp magazines, movie stuntmen, 'The Films of John Wayne', actress Susan Hayward, Milton Caniff's 'Terry and the Pirates', V.T. Hamlin, two pages of reprinted comic strips of the '30s, two pages of old ads for new books by Edgar Rice Burroughs, Orson Welles' 1938 'War of the Worlds' broadcast, and more.
Roughly 8¼ × 10¾"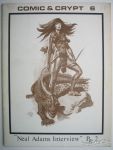 Contents include: interview with Neal Adams; a Captain Marvel/Justice League of America parody comic by Hanley; an interview with Captain George Henderson; "Sunpot: The Creator & the Strip" (four-page article on Vaughn Bodé); "A Return to Greatness" article (Superman); "Inside King Kong" article; a report on the first Cosmic Con (with photos of Stan Lee and Jim Steranko); a Manny Maris ad illustrated by Steve Fritz; an ad for Cosmicon II illustrated by Mike Kaluta; fiction; letters; more.
Characters in fan art include: Batman, Vision, Black Canary, King Kong, Nick Fury, Captain America, Hawkman, Deadman
Offset, saddle-stitched magazine (trimmed).