William Parente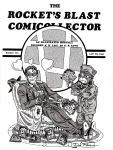 Editorial features include:
Cover by Don Rosa.  Back cover by Mike Zeck.
"The End of an Era" by William Parente (reprinted from Rocket's Blast Special #7). 
"THE EC ARTIST COLLECTOR" by James Van Hise. 
"COMIC COLLECTORS COMMENTS" by Howard P. Siegel. 
"CRITIQUE" fanzine and comix reviews by JB Clifford Jr and JVH. 
"DELL COMICS ARE GOOD COMICS" by Jeff Gorrell and Sandy Soares. 
"THE KEYHOLE" by Gary Brown. 
"Cinematically Speaking" by John Ellis. 
"RBCC INFORMATION CENTER" by Don Rosa.  
"A NOSTALGIC LOOK AT A MLJ PUBLICATION" by Raymond Miller.   
"BLASTS FROM THE READERS" with a letter from Jim Jones. 
Ads for:
BAT COMIX #1
CINEFANTASTIQUE Vol. 3, #4
GOOD OLD LUST COMICS 
GRAPHIC GALLERY #1 (Russ Cochran)
SUMMER SPECIAL 1974 EDITION (Maple Leaf Prod.)
SWORD AND FANTASY 
TIM CORRIGAN PRESENTS ELASTICWORM #1
ZERO HERO PACKET (RC Harvey)