Wes Smith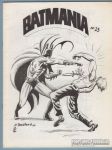 Batman-themed fanzine. Contents include an interview with Gardner Fox (with Mark Gruenwald and others), "The Legend of Two-Face!" article, letters (Biljo White and others), more.
United Fanzine Organization memberzine.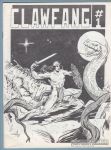 Contents include: "Super Heroes: Levity, Learning and Lightning Bolts" article; profile of illustrator Mario DeMarco; article on the Fleischer Superman cartoons; "The Forgotten Heroes: The Avenger" article; fiction; fanzine reviews; more.
Characters appearing include: Captain Marvel, Superman, the Avenger, Hawk & Dove, Howard the Duck, Batman, Vision, Deathlok, Dracula
Offset?, saddle-stitched.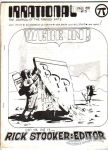 Edited by Rick Stooker.
Blue Plaque Publications memberzine.
[Note: At least one image in this entry was found online (probably at an auction site) and saved for personal use. And then the Database project came along! If you recognize your image we'd like to have your permission and would love to give you credit for your work. Please contact us through Site Info > About in the main menu up top.]