Tony Isabella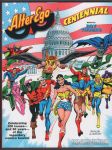 Roy Thomas on DC in the '80s; origins of Alter-Ego; tributes; The 1964 Super Hero Calendar; Fawcett Collectors of America; more.

Perfectbound book.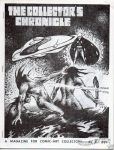 Contents include a Barbarella art portfolio and a letter from Fredric Wertham.
32 pages, offset, side-stapled.
[Note: At least one image in this entry was found online (probably at an auction site) and saved for personal use. And then the Database project came along! If you recognize your image we'd like to have your permission and would love to give you credit for your work. Please contact us through Site Info > About in the main menu up top.]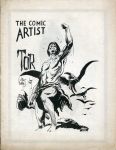 Joe Kubert issue, featuring articles about Kubert characters, and an interview with Kubert.
Characters in art include: Tor, Angel, Anthro, Hawkman, Buffalo Bill, Crimebuster, Viking Prince, Volton, Thor
Offset, saddle-stitched.
Possibly one more contributor: Grant (?)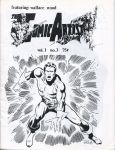 Wally Wood issue, featuring articles about Wood's career, and a Wally Wood checklist. 
Letters from Joe Kubert, Bob Cosgrove, and Duffy Vohland.
Characters in art include: Dynamo, Captain Science, Animen, Animan, Nudine, Daredevil, Radian, Captain Action, Captain America
Offset, saddle-stitched.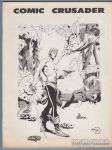 This issue is all Flash Gordon. Contents include: indepth "Flash Gordon Films" article by Royer; articles on serials "Trip to Mars" and "Flash Gordon Conquers the Universe"; roundtable discussion between Royer, Sinnott, Greim and Tony Isabella; a four-page Flash Gordon comic by Greim and Black.
Characters in fan art include: Flash Gordon, Ming the Merciless, Azura
Offset, saddle-stitched.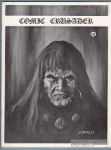 Special "Barbaric Issue". Contents include: interview with Frank Thorne; Conan fiction by Isabella; article on Edgar Rice Burroughs' Tarzan; profile of artist Carlos Gimenez (Dani Futuro); 10-page Eclipse ama-hero strip by Foss; more.
Characters in fan art include: Conan the Barbarian, Tomahawk, Dani Futuro, Thor, Slam Bradley, Tarzan
Offset, saddle-stitched.
There are two other artists I couldn't identify.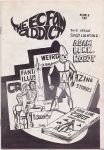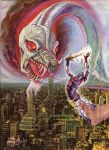 Interview with Howard Purcell, John Fantucchio portfolio, NY Con 1970 report, Multicon 1970 report. 
Oversized: 9 x 12 inches.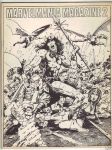 Fanzine from the Marvel Comics fan club.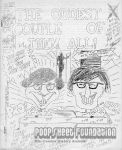 Published by Tony Isabella?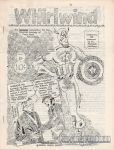 "Official Newsletter for the Canadian Academy of Comic Book Collectors."
Interview with Bill Payne.
Cover art by Ronn Sutton?