Sam de la Rosa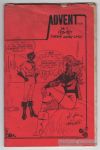 Superman art portfolio, short articles on Superman and Superboy, a detective comic, more.
It's possible there's one (or two) more creator(s) I can't identify.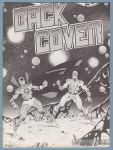 Art and comics featuring ama-heroes Victory, Motion Master, Mister Midnight, Sea Serpent, the Triark and Blackjack, plus Marvel's Captain Marvel and DC's Hourman and Dr. Fate.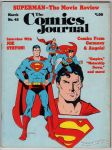 Interview with Joe Staton, indepth review of Superman: The Movie.
Roughly 8¼ × 10¾"
Other artists: Klinger (first name unknown), T. Herzog and Daly (first name unknown; Sam de la Rosa?).
Some writers/artists listed above were in the issue's list of contributors but may not be credited by the piece. It's a bit perplexing as some of the artists I can't match to art.
United Fanzine Organization memberzine.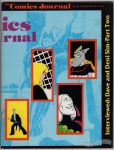 Second part of an interview with Dave and Deni Sim (Loubert).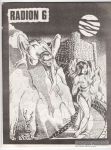 Interviews with Tom Batiuk, Ron Goulart and Michael Whelan; article on Marvel's Eternals; lots of art.
Side-stapled.
United Fanzine Organization memberzine.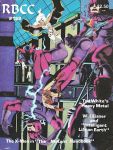 James Van Hise remains as editor, but publishing has been assumed by New Media Publishing.
Editorial features include:
Cover by Ron Wilber.
"The Mutant Handbook" by Kurt Busiek and Scott McLeod. 
"Intelligent Life on Earth" (review of Will Eisner's "Life on Another Planet") by Robert Strauss. 
"CRITIQUE" fanzine and comix reviews by Robert Strauss, and James Van Hise. 
"The Empire Strikes Mitch" by Ken Mitchroney. 
"Metal and the White Boy's Cool" (about Ted White's tenure at Heavy Metal) by Robert Strauss. 
"The Return of the Lone Ranger" by JVH. 
"Megacon Blues," strip by Doug Potter. 
"An Interview with Mike Friedrich" by Gerald Brown. 
"The Invasion of the Body Snatchers" (book/movie/book/movie review) by JVH. 
"Weird Tales: Back from the Dead and Needing a Facelift" by JVH.  "Have Broom, Will Travel" (a review of Broom-Hilda" Life Begins at 1500" by JVH.   
Ads for:
COMICS FEATURE
ENTERPRISE INCIDENTS 
MONSTER INVASION Portfolio by Jim McDermott and Steve Fiorilla
PORTIA PRINZ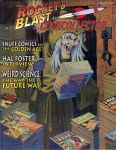 Front and back covers by Johnny Craig.
Editorial features include: 
"BLAST FROM THE READERS," featuring a letter from Al Kracalik about OUTRE and SPA FON #1.   John Fantucchio's cover for RBCC #61 printed in black-&-white.   "Johnny Craig Tribute" by James Van Hise.  "The Ghoulanatic Paintings" by "Crumblin' Charlie."  "George Evans Tribute" by JVH.   "Why Do We Collect Comics?" by JVH.   "Prince Valiant in the Days of Hal Foster" by JVH.  "An Interview with Hal Foster" reprinted from COLLAGE #10.   "Comic Artists in the Pulps" featuring Alex Raymond, Al Williamson, and Roy Krenkel.  "League of Masks," fiction by JVH.  "Torture, Death and Disrobing — 'Snuff' Comics in the Golden Age: 1945-1955" by Michael Vollmer.  "THE EC STORY: Weird Science — The Way the Future Was" by JVH.  "Don Rosa's INFORMATION CENTER," originally intended for RBCC #152.
"MAD Index 1-23" by Bill Hansen and Dan Ciminelli reprinted from RBCC #153.  "One of the Greatest Films You've Never Seen: The Boy from Mercury" by JVH.  
Ads for:
ALL-STORY pulp magazine facsimile
DINOSAURS ATTACK! bubblegum cards
MIDNIGHT GRAFFITI
PULP MASTERS
RBCC house ad
THE FANTASTIC WORLDS OF HP LOVECRAFT  
THE FANTASTIC WORLDS OF ROBERT E. HOWARD
TOMB TALES
and YE OLDE FANZINE SHOPPE