Ray Miller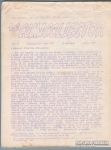 Contents include: a seven-page American Man ama-hero strip; sale/want lists (Howard Rogofsky, Mike Vosburg, Jerry Bails, others); a look at some obscure Golden Age characters; warnings about unscrupulous fans; letters; more.
Characters in art include: Shock Gibson, Captain Freedom, Black Cat, Pat Parker
Ditto, corner-stapled.
There was a third person in TRIAD (another Foss but I'm not sure about the first name).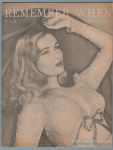 Nostalgia fanzine. Contents include Harvey Kurtzman interviewed by Alan Hewetson and an article on the Uncle Sam comic book character.
Offset on newsprint.
Batman cover by Ray Miller. "Candid Comments" by Calvin Castine, who was an 18 year old writer for SICK magazine. "Rocketeer Gossip" by Rick Weingroff (5 pages). Reprint of a BLACK HOOD cover and a FLAGMAN splash page.
Nightmare & Sleepy cover by Rich Buckler. "Rocketeer Gossip" by Rick Weingroff. Column by Ray Miller. Letters column includes a letter from Roy Thomas. Reprint of a newspaper article on comic collector Gene Arnold.