Paul Young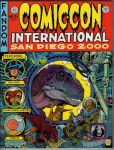 Contents include art sections in tribute to EC Comics/MAD Magazine, Charles Schulz's "Peanuts", Dinosaurs & Giant Robots, Will Eisner's Spirit and Flash & Green Lantern.
Appearances in art by William Gaines, Johnny Sokko and His Flying Robot, Frankenstein Jr., Mechagodzilla, Kona, Fred Flintstone, Ellen Dolan, Cutey Bunny, El Gato Negro, Impulse, Spark Plug, Charlie Brown, Lucy Van Pelt, Snoopy, GoGirl, Judge Judy, Quicksilver and others.
Roughly 8¼ x 10¾" (8½ x 11" trimmed)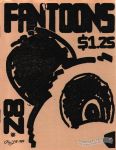 Edd Vick's long-running anthology that was often a mix of comics, prose, sf, anthropomorphics and fantasy.
Letters from Mark Hulstrunk, Noel John Tominack, Sheryl Birkhead, Teddy Harvia, Charles Smith and Jim Ryan.
Characters appearing include Ziggy, Bambi and Godzilla.
Steve Willis appears as "R. Griswold".
MUPubs #087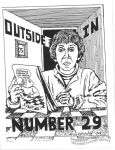 Outside In was a long-running series that collected artist self-portraits. Originally begun by Steve Willis, this issue is from the Edd Vick / Hal Hargit run.