Mike Clark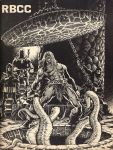 Editorial features include:
Front and back covers by Mike Zeck.  
"The World of Gerry and Sylvia Anderson" by Mike Clark and Marc Wielage. 
ARTIST PROFILE of Mike Zeck. 
"RBCC INFORMATION CENTER" by Don Rosa. 
"Friedkin Returns to TV to Direct 'The Spirit'," likely reprinted from a newspaper article. 
"Biography of Noel Neill," reprinted from Palm Beach Con*1 / Trek Int'l '75 program book. 
"DELL COMICS ARE GOOD COMICS" by Jeff Gorrell. 
"COMIC COLLECTORS COMMENTS" by Howard P. Siegel.  
"THE PERTWILLABY PAPERS" Part Three, by Don Rosa. 
"THE EC ARTIST COLLECTOR" by James Van Hise.
"CRITIQUE" fanzine and comix reviews by JB Clifford Jr and JVH. 
"THE KEYHOLE" by Gary Brown. 
"1975 New York Star Trek Con" by JVH. 
"BLASTS FROM THE READERS" with letters from John Kent and Harland Ronning.
Ads for:
FILM COLLECTOR'S REGISTRY
FILM FANTASY SCRAPBOOK
HP LOVECRAFT LP
NOVA SCIENCE FICTION
SCREW'S LOOSE #1, 2
THE CONNECTION #2
TIM CORRIGAN'S SUPERHERO COMICS #4
VALLEY OF THE CLIFFHANGERS
WINDY CITY PRESENTS ELRIC