Marshall Lanz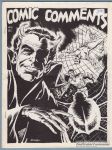 Contents include: "Academy or DCTC?" article;  other DC Trade Center promotion; pro comic news; letters (Buddy Saunders, Ray Miller, Rick Weingroff, Jeff Gelb, others); ad for Super-Hero #5 drawn by Mickey Schwaberow; more.
Characters in art include: Judomaster, Fatman, Mr. L. Dedd
Offset/ditto, 24 pages (although 3 sheets are bound-in one-sided flyers), side-stapled.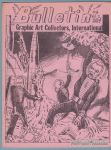 Fanzine for Graphic Art Collectors, International.
Contents include: articles on Will Eisner's Spirit, fandom and the X-Men, plus letters and more.
Offset? Side-stapled.