Ken Keller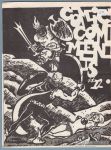 Contents include: more on C.C. Beck and Milson; letters (Marv Wolfman, Gary Friedrich, Irene Vartanoff, Larry Herndon, Bill Spicer, others); a recommendation for Wonder Wart-Hog; full-page fanzine ads for THE, Bombshell, Action Illustrated; more.
This issue also contains On the Drawing Board #56 (Vol. 2, #9) by Robert Schoenfeld.
Characters in art include: Golden Age Green Lantern
Offset/ditto, essentially 20 pages, side-stapled.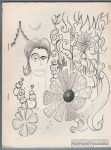 Contents include: "Prehistoric Supermen" article; Elric of Melnibone art by Gaughan; dadaesque comics by Dave Buck utilizing Marvel Comics-style imagery; and more.

Plus letters from Harvey Kurtzman, Ted White, Mae Strelkov, Ray Nelson, Jack Gaughan, and others.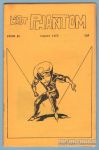 Contents include brief articles on Creepy and Eerie, Marvel Comics, the Spectre, Superman, George Reeves, Dr. Doom, MAD Magazine, Supergirl, Green Arrow, Green Goblin and the 1968 S.C.A.R.P. comic con (Comic Art Convention). They also reprint (from the convention program?) the two-page "The Conventioneers" by Phil Seuling and Jim Steranko.
Characters in art include: Deadman, Uncle Creepy, Cousin Eerie, the Thing, Atom, Spider-Man, Nick Fury, Dick Tracy, Hawkman, Human Torch, Pogo, Popeye, Wonder Woman
Mimeo, saddle-stitched.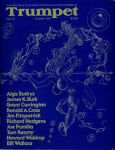 Following the death of Tom Reamy in 1977, Trumpet #12 was published by Ken Keller in an effort to resurrect the title.   Reamy had followed Trumpet #11 (1974) with Nickelodeon #1 (1975) and Nickelodeon #2 (1976) with co-editor/co-publisher Keller after becoming embroiled in a publishing deal with Nostalgia Inc. that didn't turn out as he had hoped or been led to believe.  Trumpet #12 would be the final issue.