Greg Gill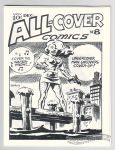 Hilary Barta's occasionally-published collection of faux comic book covers. Each issue is numbered but I'm not sure that any of them are consecutive.
Some (not all) copies are unstapled.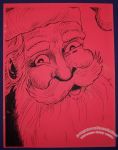 Some of this issue's contents: five pages of Kazaleh material originally done for the Ren & Stimpy comic but never published; a nine-page jam comic by Hilary Barta, Scott Beaderstadt, Howard Bender, Brian Buniak, Daryll Collins, Barry Crain, George Erling, Pete Fitzgerald, Greg Gill, Mike Kazaleh, Brian Thomas and Bill Wray; a one-page jam drawing by Brad Foster, David Tosh, Wayne Truman, Craig Miller and Ben Dunn.

Characters appearing in art and comics include: Ren & Stimpy, Tor Johnson, Godzilla, Beetle Bailey's Sarge, Ted Danson, O.J. Simpson, Davy Crockett, Dudley Do-Right, Frankenstein, the Seven Dwarfs, Andy Capp, Dick Tracy and Santa Claus.

This issue also included a two-color Christmas card by Daryll Collins and a Max Traffic flyer insert.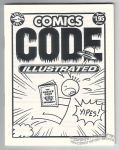 Each section of the Comics Code Authority's guidelines is illustrated by a different artist.
Characters appearing include Groo the Wanderer, Patty Cake, Akiko, Superman, Prometheus (Amoeba Adventures)
Hand-stamped logo on back.
Generally speaking, Not Available printings beyond the 1st have a datestamp on the front or back cover which is the printing date of the batch that copy was from. Matt Feazell says those post-1st printings were usually 60 copies or fewer.
Known printings:
May 2, 1997
November 16, 1997