Gerry Gendlin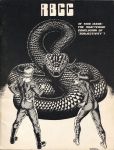 Editorial features include:
Cover by Kerry Gammill.  Back cover by Stephen Fabian.
Part 4 (conclusion) of "Subjectivity," an adaptation of a short story by Norman Spinrad illustrated by Kerry Gammill. 
"CRITIQUE" fanzine and comix reviews by JB Clifford Jr, Mark Burbey, Andrew Warner, and James Van Hise. 
"Magnus, Robot Fighter" by JVH. 
"Pogo Meets a Possum" by Walt Kelly, reprinted from Collier's (April 29, 1955). 
"DELL COMICS ARE GOOD COMICS" by Jeff Gorrell.  
"The RBCC Comic Fandom Opinion Poll" conducted by Mark Burbey.  "Star Trek: New York" convention report by Gerry Gendlin. 
"RBCC INFORMATION CENTER" by Don Rosa. 
"BLASTS FROM THE READERS" with a letter from JB Clifford Jr.
Ads for:
CINEFANTASTIQUE Vol, 4, #4 and Vol. 5, #1
COMMUNICATOR #4/5
COMPASS #10
ENTERPRISE INCIDENTS #1
FANDOM FUNNIES #2 (RBCC parody)
FIRST FLIGHT (published?)
STAR TREK 75
THE ENFORCERS #1
Vaughn Bode's CHEECH WIZARD
Vaughn Bode's DEADBONE
VOYAGE #1 and 2
Also: an ad for THE COMICSHOP in Vancouver, Canada illustrated by George Metzger.