Gahan Wilson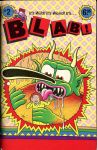 Mars Attacks interview with Len Brown, illustrated with art by Norman Saunders and Wally Wood.  Interview with Gary Arlington.  Notes from the Underground Part 2:  more remembrances of EC from numerous underground artists.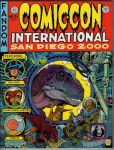 Contents include art sections in tribute to EC Comics/MAD Magazine, Charles Schulz's "Peanuts", Dinosaurs & Giant Robots, Will Eisner's Spirit and Flash & Green Lantern.
Appearances in art by William Gaines, Johnny Sokko and His Flying Robot, Frankenstein Jr., Mechagodzilla, Kona, Fred Flintstone, Ellen Dolan, Cutey Bunny, El Gato Negro, Impulse, Spark Plug, Charlie Brown, Lucy Van Pelt, Snoopy, GoGirl, Judge Judy, Quicksilver and others.
Roughly 8¼ x 10¾" (8½ x 11" trimmed)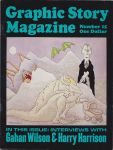 Interviews with Gahan Wilson and Harry Harrison.