David Spurlock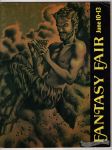 Contains photos (by Joe Bob Williams) from early '70s Dallas cons featuring Harlan Ellison, Larry Herndon, Neal Barrett Jr., Paul McSpadden, Joe Bob Williams, Howard Waldrop, Burne Hogarth, Forrest J. Ackerman, Buddy Saunders, Don Punchatz and others.
Roughly 8¼ x 11" (8½ x 11" trimmed).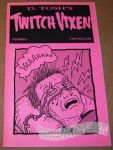 David Tosh's anthology of (mostly) television-themed comics. This issue also contains a crazy one-page jam comic by Tosh, David Spurlock, Mark Stokes, Michael Aitch Price, Mark David Dietz and others.
Cardstock cover.
Cover printed on fluorescent pink stock.
There may be more contributors than listed above.