David Martin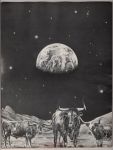 This one came was available in both regular and deluxe editions.
The deluxe edition has a Nick Smith wraparound cover and includes the articles "The Faces Behind the Dallas Fantasy Fair: A Little Background on Bulldog Productions and Its Staff" and "Dallas Fandom: A Partially Personal History" by Edd Vick. Also contains photos from shows past featuring Frank Miller, Dave Stevens, Doug Wildey, Jaxon, Gilbert Shelton, Robert Crumb, Burne Hogarth, Harvey Kurtzman, Moebius, Will Eisner, Sergio Aragones, Denis Kitchen, Dave Sim, Jim Starlin, the Hernandez Bros., Roger Zelazny, Stanislaus Szukalski and many others.
8¼ x 10¾"
Regular edition: 36 pages
Deluxe edition: 32 pages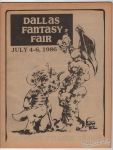 Scheduled guests included Jack Kirby, Will Eisner, Joe Kubert, Harvey Kurtzman, Pat Boyette, Frank Miller, Gary Groth, Burne Hogarth, Jaxon, Gil Kane, Moebius, George R.R. Martin, Mike Gustovich, Dave Sim, Dave Stevens, Eric Vincent, Don Simpson, Kenneth Smith, Robert Asprin, Doug Wildey, John Wooley, Roger Zelazny, cat yronwode, Pat Broderick, John Carbonaro, Sam de la Rosa, Colleen Doran, Real Musgrave, Richard Pini, Ben Dunn, Brad W. Foster, Kerry Gammill, Gerhard, William Messner-Loebs, Don Ivan Punchatz and others.
Roughly 8¼ x 11".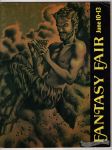 Contains photos (by Joe Bob Williams) from early '70s Dallas cons featuring Harlan Ellison, Larry Herndon, Neal Barrett Jr., Paul McSpadden, Joe Bob Williams, Howard Waldrop, Burne Hogarth, Forrest J. Ackerman, Buddy Saunders, Don Punchatz and others.
Roughly 8¼ x 11" (8½ x 11" trimmed).