You are here:  

Home

>

Michael T Gilbert
Dan Adkins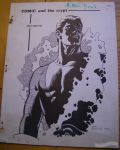 [Note: At least one image in this entry was found online (probably at an auction site) and saved for personal use. And then the Database project came along! If you recognize your image we'd like to have your permission and would love to give you credit for your work. Please contact us through Site Info > About in the main menu up top.]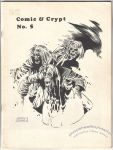 [Note: At least one image in this entry was found online (probably at an auction site) and saved for personal use. And then the Database project came along! If you recognize your image we'd like to have your permission and would love to give you credit for your work. Please contact us through Site Info > About in the main menu up top.]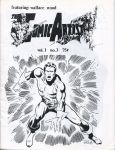 Wally Wood issue, featuring articles about Wood's career, and a Wally Wood checklist.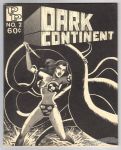 Pre-AC Comics "good girl" adventure and superhero comics by Bill Black. Stories in this issue feature Tara and Captain Paragon. There's also a Sheena section in the middle with photos of Irish McCalla and artwork by Dan Adkins (centerspread) and Black. The back cover depicts the Haunted Horseman.

7 × 8½", 32 pages, offset.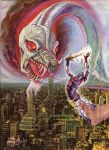 Interview with Howard Purcell, John Fantucchio portfolio, NY Con 1970 report, Multicon 1970 report. 
Oversized: 9 x 12 inches.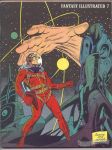 [Note: At least one image in this entry was found online (probably at an auction site) and saved for personal use. And then the Database project came along! If you recognize your image we'd like to have your permission and would love to give you credit for your work. Please contact us through Site Info > About in the main menu up top.]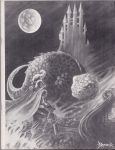 Features interviews with Frank Frazetta, Bernie Wrightson.  
There were two printings of Infinity #2, with different pages of art by Dan Adkins and Gray Morrow.  The first printing had heavy, glossy covers, and the second printing had a mat finish cover.  
There is no date on either printing, but the ad included here states that Infinity #2 was published in 1971.   The ad also states that one of the new pieces of art would be by Clyde Caldwell, but no Caldwell art appears in either printing.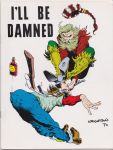 A typo in the indicia numbers this issue as #4, but an ad that appeared in RBCC #79 [see images] identifies this third issue as #3.  This was the third and final issue.
Includes an unpublished Web of Horror strip by Berni Wrightson, and Chapter 2 of an original strip by Tom Sutton called "Pilgrim," and the conclusion of the "Nest Egg" strip that started in issue #2.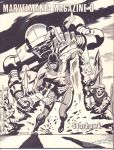 Fanzine from the Marvel Comics fan club.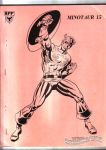 Blue Plaque Publications memberzine.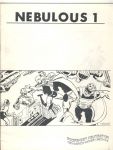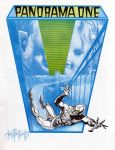 Bill G. Wilson, in Ken Meyer Jr's Ink Stains:
"I did Panorama as a convention one-shot prior to Phil Seuling's '71 con – in fact, there are pics of my dad and Kenneth Smith (!) hawking copies of it at my table in The Collector 24. About the color: I was experimenting with color reproduction as I gained more experience running the ol' A.B. Dick 360 offset press at Prince Printing, and John Fantucchio's great cover gave me the opportunity and inspiration to do even more. Registering color with multiple passes on a single-color press – especially printing its max sheet size of 11×17 – was no mean feat, and the success with Panorama gave me the confidence to explore full four-color, which I then used throughout The Collector from #24-on."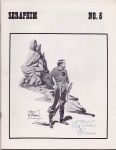 EC fanzine.  Formerly called The EC Fan-Addict.
Final issue.  The one article in this issue, "It's a Mad, Mad, Mad, Mad MAD" by Bill Parente, is reprinted from The EC Fan-Addict #1.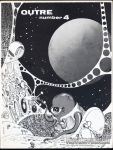 Edited by Rich Hauser, Jay Broecker, Helmet Mueller and Wally Reichert.
Numbered edition of 125.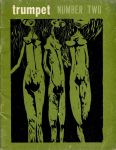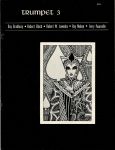 Letters page includes letters from Robert Bloch and Andrew Offutt.