Curt Hardaway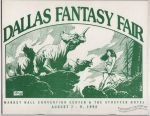 Scheduled guests included Sergio Aragones, Peter Bagge, Steve Bissette, Bob Burden, Dan Clowes, Robert Crumb, Ray Harryhausen, Jaime Hernandez, Gilbert Hernandez, Gill Kane, Martin Nodell, Mark Schultz, Julius Schwartz, Gilbert Shelton, Reed Waller, Al Williamson and many others.
Roughly 8¼ x 10¾".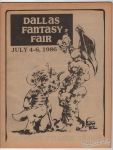 Scheduled guests included Jack Kirby, Will Eisner, Joe Kubert, Harvey Kurtzman, Pat Boyette, Frank Miller, Gary Groth, Burne Hogarth, Jaxon, Gil Kane, Moebius, George R.R. Martin, Mike Gustovich, Dave Sim, Dave Stevens, Eric Vincent, Don Simpson, Kenneth Smith, Robert Asprin, Doug Wildey, John Wooley, Roger Zelazny, cat yronwode, Pat Broderick, John Carbonaro, Sam de la Rosa, Colleen Doran, Real Musgrave, Richard Pini, Ben Dunn, Brad W. Foster, Kerry Gammill, Gerhard, William Messner-Loebs, Don Ivan Punchatz and others.
Roughly 8¼ x 11".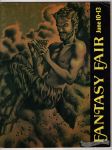 Contains photos (by Joe Bob Williams) from early '70s Dallas cons featuring Harlan Ellison, Larry Herndon, Neal Barrett Jr., Paul McSpadden, Joe Bob Williams, Howard Waldrop, Burne Hogarth, Forrest J. Ackerman, Buddy Saunders, Don Punchatz and others.
Roughly 8¼ x 11" (8½ x 11" trimmed).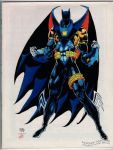 Contains a one-page Harvey Kurtzman/MAD tribute comic by David Tosh and Mark Stokes.
Scheduled guests included Forrest J. Ackerman, Sergio Aragones, Mike Allred, Clive Barker, Daniel Clowes, Mark Evanier, Ray Harryhausen, Gilbert Hernandez, Jaime Hernandez, Joe Linsner, Scott McCloud, Julius Schwartz, Mark Schultz, Reed Waller, Larry Welz, Al Williamson, Bill Willingham, Jim Woodring, Bob Burden, Brian Biggs, Steve Englehart, Gary Groth, Hanther, Denis Kitchen, Jeff Rovin, David Spurlock and many others.