Chik DuBay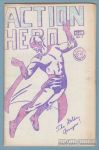 Ama-hero comics starring the Golden Avenger, Dr. Law and the Gray Grasshopper.

Eight one-sided sheets collated booklet-style to make 16 pages of contents. Ditto printed, unstapled.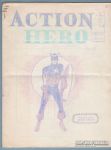 Ama-hero comics starring Mercury II, the Flag and the Golden Avenger. Also contains an article on Superman by Fred Landesman.
Characters appearing in fan art include Captain America, Superman, Batman, Flash and Giant-Man.
Ditto printed.