Butch Burcham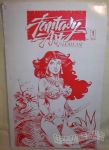 From Tony Castleberry:
"This 'book' is actually 1 of 3 portfolios of black and white art by Newton "Butch" Burcham. He was the artist on a handful of comic fanzines in the late 1970s to early 1980s as well as the penciller and/or inker on several 1980s (mostly black and white) independent comic books [Dark Wolf, The Twilight Avenger, etc.]."
All three portfolios "were each published in an over-sized format and hand-stapled together."
[Note: At least one image in this entry was found online (probably at an auction site) and saved for personal use. And then the Database project came along! If you recognize your image we'd like to have your permission and would love to give you credit for your work. Please contact us through Site Info > About in the main menu up top.]