Brian Thomas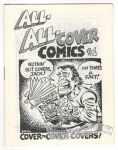 Collection of fictional comic book covers including spoofs of Mars Attacks, Conan the Barbarian, the Smurfs, Hot Stuff (the Little Devil) and Mark Twain's The Mysterious Stranger.
Published in mid to late '80s? Possibly two printings, one from mid '80s and one from late '80s.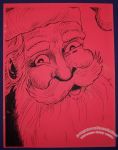 Some of this issue's contents: five pages of Kazaleh material originally done for the Ren & Stimpy comic but never published; a nine-page jam comic by Hilary Barta, Scott Beaderstadt, Howard Bender, Brian Buniak, Daryll Collins, Barry Crain, George Erling, Pete Fitzgerald, Greg Gill, Mike Kazaleh, Brian Thomas and Bill Wray; a one-page jam drawing by Brad Foster, David Tosh, Wayne Truman, Craig Miller and Ben Dunn.

Characters appearing in art and comics include: Ren & Stimpy, Tor Johnson, Godzilla, Beetle Bailey's Sarge, Ted Danson, O.J. Simpson, Davy Crockett, Dudley Do-Right, Frankenstein, the Seven Dwarfs, Andy Capp, Dick Tracy and Santa Claus.

This issue also included a two-color Christmas card by Daryll Collins and a Max Traffic flyer insert.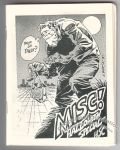 Annual Halloween special.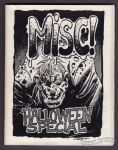 Annual Halloween issue.

1st printing: October 1989
2nd printing: April 1991

I feel like I know contributor "Pee Wee Warhol" by another name but I can't quite put my finger on it.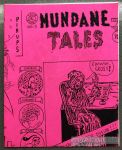 Pinup issue.
Also came with an 8½ x 11" poster.