Barry Linton

Catalogue for an exhibition of the same name. This is the second edition published for a later showing of the exhibition. The first edition was published in 1998. Foreward, essay, several pages of comics and biographies and sample art for 50 New Zealander cartoonists: Colin Wilson, Barry Linton, Joe Wylie, Laurence Clark, Kevin Jenkinson, Grant Major, Chris Knox, Peter Johnstone, Peter Adams, Timothy H. Glass, Tim Bollinger, Cornelius Stone, Dylan Horrocks, Roger Langridge, Peter Rees, Lars Cawley, Christian Carruthers, Trace Hodgson, Chris Slane, Anthony Ellison, Adam Jamieson, Timothy Kidd, Sophie McMillan, Brendan Philip, Andy Conlan, Karl Wills, Lisa Noble, Renee Jones, Willi Saunders, Wade Shotter, Terri Rota, Stefan Neville, Indira Neville, Glen Stewart, Tony Renouf, Glen Ross, Jared Lane & Jason Brice, Martin Emond, Simon Morse, Rufus Dayglo, Paul Rogers, Ant Sang, Kelvin Soh, Simon Rattray, Alex Beart, Saret Em, Craig Petersen, Zak Waipara, Tim Tripp, Jason Winter.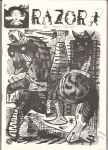 Interviews with Kupe, Barbara Kruger and Joe Kubert.
Dylan Horrocks is also listed among the staff although I don't think he's in this issue.
There may be more contributors than listed above.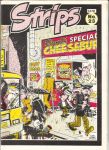 Nicely produced Kiwi comics anthology edited by David Morgan. Contents include a sort of Blondie & Dagwood parody, dada fashions and more.

Dagwood Bumstead parodied on the cover.

Wrapround, color cover.