Steve Fritz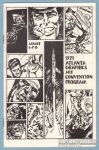 Program for the show held on August 6-8, 1971. Guests included Dick Giordano and Frank McLaughlin.
There may be more contributors not listed above.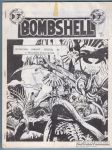 This is the "Incredible Fantasy Special #3" issue with fiction, art and comics. Contents include: a full-page drawing by Gene Klein (later Gene Simmons), ama-hero comic starring Captain Fear, a Buddy Saunders sale list, more.
Offset/ditto, side-stapled.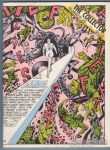 Contents include: six-page Mr. A comic and wraparound cover; biography of Ken Barr; a Tarzan art portfolio; a John Fantucchio portfolio (with color centerspread); "The By-Products of Adventure" (radio drama); biography of Joe Sinnott; a "Greenhorn" comic by Hanley (Marvel/DC parody); a brief interview with C.C. Beck; a gorgeous 10-page Hyperman comic; letters (Al Hewetson, Kenneth Smith, Joe Kubert, others); more.
Characters include: Batman, Tarzan, Superman, Deadman, Lone Ranger, the Old Witch (EC Comics), Captain Marvel, Captain Marvel Jr., Cthulhu, Doc Savage
Offset, some interior color, saddle-stitched.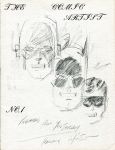 Carmine Infantino issue, featuring a short interview with Infantino, and articles about Infantino's work in the 40s, 50s, and 60s.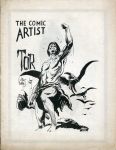 Joe Kubert issue, featuring articles about Kubert characters, and an interview with Kubert.
Characters in art include: Tor, Angel, Anthro, Hawkman, Buffalo Bill, Crimebuster, Viking Prince, Volton, Thor
Offset, saddle-stitched.
Possibly one more contributor: Grant (?)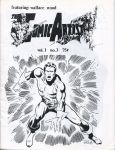 Wally Wood issue, featuring articles about Wood's career, and a Wally Wood checklist. 
Letters from Joe Kubert, Bob Cosgrove, and Duffy Vohland.
Characters in art include: Dynamo, Captain Science, Animen, Animan, Nudine, Daredevil, Radian, Captain Action, Captain America
Offset, saddle-stitched.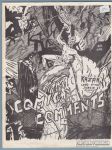 Contents include: comics/fandom predictions; comic news; letters (Irene Vartanoff, Mike Benton, others); ads for Armageddon/Crypt, Wayward Traveler, Super-Hero, Intrigue, Bombshell, Heroic, Incognito Comics, Forbush Gazette; more.
Also contains On the Drawing Board #55 (Vol. 2, #8)
Characters in art include: Ka-Zar, Linus Van Pelt
Offset/ditto, essentially 20 pages, side-stapled.
There's one other unidentified artist: MR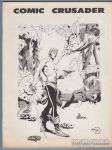 This issue is all Flash Gordon. Contents include: indepth "Flash Gordon Films" article by Royer; articles on serials "Trip to Mars" and "Flash Gordon Conquers the Universe"; roundtable discussion between Royer, Sinnott, Greim and Tony Isabella; a four-page Flash Gordon comic by Greim and Black.
Characters in fan art include: Flash Gordon, Ming the Merciless, Azura
Offset, saddle-stitched.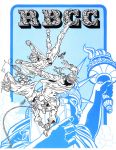 Editorial features include:
Cover by Robert Susor.  Back cover by Mike Zeck.
"An Interview with Neal Adams" by Richard Kravitz and James Van Hise.  "Black Condor" article by Ray Miller. 
"Spaced: 1998 1/4" written and drawn by Ron Wilber.  
"The Glob" by John O'Reilly and Walt Kelly, reprinted from LIFE Magazine 1952. 
"THE EC ARTIST COLLECTOR" by Larry Bigman. 
"RBCC INFORMATION CENTER" by Don Rosa. 
"CRITIQUE" fanzine and comix reviews by JB Clifford Jr, Mark Burbey, and JVH. 
"COMIC COLLECTORS COMMENTS" by Howard P. Siegel. 
"Great Expectations: Kenneth Smith's Phantasmagoria" by George Beahm.  
"BLASTS FROM THE READERS" with a letter from David Michelinie.
Ads for:
COMIC BOOK PRICE GUIDE #6 (1976)
ABYSS PORTFOLIO (1971, offered here by the guys who published HERITAGE.)
Clay Geerdes' COMIX WORLD 
DUCKANEER poster by Frank Brunner
EAST COAST COMIX EC reprints
ENTERPRISE INCIDENTS #1, 2
FEATURE SHOWCASE #1
FILM COLLECTOR'S WORLD
SIXGUN HEROES: A Price Guide to Movie Cowboy Collectibles
STARLOG #1
THE FILM COLLECTOR'S REGISTRY
THE VAUGHN BODE INDEX
TREK #5
WE #106 (Official publication of WSA Program)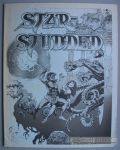 What Is This Site?
A virtual archive of mini-comics, fanzines, small press comics, newave comix and related items. The physical archive, housed at PF headquarters, is being built with personal acquisitions as well as generous donations from supporters. This project is most definitely a work in progress.