Russell Rose
Steve Willis' biweekly newsletter full of comix news and commentary.
Also in this issue: a checklist of 1992 City Limits Gazette issues, the Bil Keane Watch, CLG Reader Profile of Brad Foster, more of Gary Usher's Comics Journal Small Press Index.
Unbound, b&w interiors.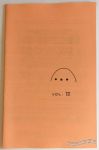 Collection of the popular "Bil Keane Watch" feature by various folks that originally appeared in Steve Willis' City Limits Gazette newsletter.