Kurt Wolfgang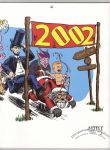 Huge jam comics project in which a ton of artists contributed one or more panels to create a comic for each month of the year with each month designed on a two-page spread so that it's also a usable calendar with one panel per day. Edited by F.C. Brandt and Jesse Reklaw.
Color wraparound cover.
There may be more contributors than listed above.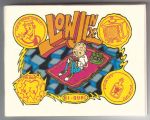 Also came with a 40-page micro-comic velcro'd to the back cover that contains drawings by all of the contributors.
4¼ × 5½"
80 pages total
Color cover
Some interior color
1st printing: ?
2nd printing: 2000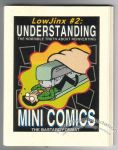 Parodies of Scott McCloud and James Kochalka. Ryan's story stars Loady McGee and Synus O'Gynus from Angry Youth Comix.
Also came with two full-color Johnny Ryan stickers inserted into the binding.
4¼ × 5½"
56 pages + stickers
Color covers
Some interior color
1st printing: ?
2nd printing: 2000