Jeff Nicholson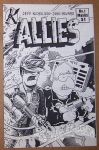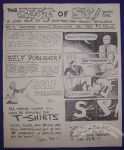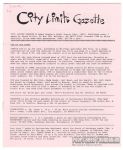 Steve Willis' biweekly newsletter full of comix news and commentary.
Also in this issue: an editorial on the purpose of CLG, discussion on selling out, a few MAD Magazine-themed articles reprinted from The Olympian (Olympia, Washington), comix reviews by Hansen, the Bil Keane Watch, readers answer questions, and the continuation of the Morty Dog Memorial Library Bad Beatles Countdown.
Saddle-stitched, b&w interiors.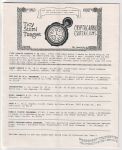 Steve Willis' biweekly newsletter full of comix news and commentary.
Also in this issue: Jay Kennedy on the then-upcoming updated version of his Underground and Newave Comix Price Guide, an index of Bizarro appearances in DC Comics, CLG Reader Profile of Dennis Pimple, the Bil Keane Watch, Denis Kitchen defends the price of R. Crumb art prints, Lynn Hansen on selling out, more.
Unbound, b&w interiors.
The issue number is actually #** (two underlined asterisks).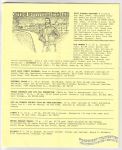 Steve Willis' biweekly newsletter full of comix news and commentary.
Also in this issue: the Bil Keane Watch, comix reviews by Lynn Hansen, the continuation of Gary Usher's Comics Journal Small Press Index.
Saddle-stitched, b&w interiors.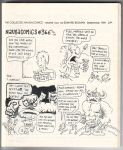 The Naugacomics are similar in spirit and format to Willis' Morty Comix and are another precursor to the current ACEO / art cards. Like Morty Comix, the typical format of the Naugas was the hand-drawn, four-page booklet. Some were sketchy, some were more polished, some were hand-colored. Some of them even represented installments in continuing stories – the long-running "Houseboat on the Styx" serial, for example.

Begun in January, 1986, over 500 (perhaps more) were produced and are scattered around the globe. This series attempted to collect as many of them as possible.

This series was published by Jeff Nicholson (Ultra Klutz), who was also responsible for the Steve Willis Archives series.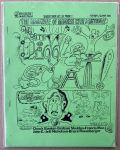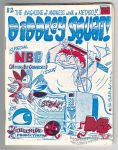 Two-color covers
There may be more contributors than listed above.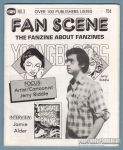 Contents: spotlight on Jerry Riddle; interview with Jamie Alder (Bill Shut); photos of Jerry Riddle, G. Raymond Eddy, Sean Cliver, Matt Feazell, Jim Main, Kirk Chritton, Randy Paske, Erik Larsen, Gary Panter and Francis Mao; letters from Gary Lovisi, Eric Hampton, Tim Corrigan, Wade Busby and others; more.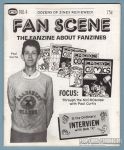 Contents: interview with Bob "X" (Xex Graphix); spotlight on Paul Curtis' Micro-Comics series; news and reviews; letters from Erik Larsen, Tim Corrigan, Kirk Chritton and others; comic strips; photos of Paul Curtis, Robert Stump, Jason Marsden, Steve Leach, Christopher Howard, Jeff Gaither, Mark Heike, Olas Manns, Chester Brown, Jon Strongbow, Shawn Christie, Ross Raihala, Jeff Nicholson, Michael Roden, and Bob "X"; more.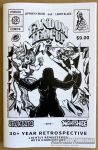 Team-up starring Snowbuni and Nightshade (later called Nightstar). This edition commemorates the 34th anniversary of its original publication and includes footnotes on every page (regarding story, process, etc.). There's some slight editing and the UFO (United Fanzine Organization) Checklist was updated to the current one as of publication.
Cameo appearances (non-story) by Ultra Klutz and Mightyguy.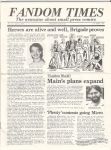 This issue's got: an article on a Michael Roden/John Eberly musical collaboration; "UFO Report" article; interview with Kirk Chritton; profile of Clint Hollingsworth; profile of Jim Thompson; news; mini-comic/fanzine reviews; ads drawn by Guy Burwell, Bill Fitts, Michael Roden, Bobby Weiss/Sam Henderson, Vernon Grant and others; letters from Bruce Chrislip, Par Holman, Sam Gafford, Michael Roden, Jeff Nicholson and others; more.
Printed in two sections.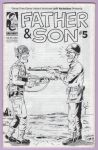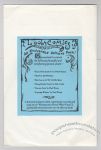 Six round "picture disks" in a sealed envelope which require the Floobycomics Picture Wheel Viewer (!) to properly enjoy.
According to the outer label, reels included are "Satan's Flesh Zamboni" by Edward Bolman, "I Need" by Jeff Nicholson, "Skin Care in the '90s" by Billy Spicer, "Flying Hatchet Comix" by Maximum Traffic and "Cats into Corn" and "Acquiring Wisdom" by Chad Woody.
6 × 9" packaging
Published in the early or mid '90s?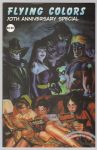 Full-size comic celebrating the 10th anniversary of the Flying Colors comic shop in California. Contents include comics and art by Daniel Brereton (cover), J.B. Bonivert, Andi Watson, Ken Hooper, Carlos Saldana, John Romita, Jeff Nicholson, Jon "Bean" Hastings, Jeff Johnson and Jim Lee.
Characters making cameos include Godzilla, Dave Sim's Cerebus, one of Larry Marder's Beanworld beans, Hellboy, Jimmy Corrigan, Concrete, Milk & Cheese, Pogo, Rorschach, Sergio Aragones' Groo the Wanderer, Fat Freddy, Bart Simpson, the Tick, the Spirit, Gwen Stacy and others.
There are also photos (from store appearances) of Stan Lee, Dick Ayers, James Hudnall, Dan Brereton, J.H. Williams, Mick Gray, Erik Larsen, Grant Morrison, Dave McKean, Jim Lee, Terry Austin, John Romita and others.

Roughly 6½ × 10¼", 32 pages.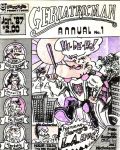 Hectography-printed cover?
[Note: At least one image in this entry was found online (probably at an auction site) and saved for personal use. And then the Database project came along! If you recognize your image we'd like to have your permission and would love to give you credit for your work. Please contact us through Site Info > About in the main menu up top.]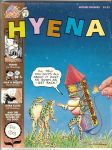 Not a mini-comic but an anthology with deep roots in minis.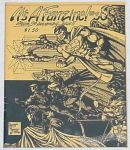 5th anniversary issue.
United Fanzine Organization memberzine.
[Note: At least one image in this entry was found online (probably at an auction site) and saved for personal use. And then the Database project came along! If you recognize your image we'd like to have your permission and would love to give you credit for your work. Please contact us through Site Info > About in the main menu up top.]