Harlan Ellison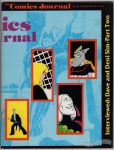 Second part of an interview with Dave and Deni Sim (Loubert).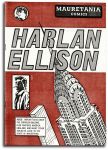 Interviewed by Chris Reynolds and Paul Harvey.
[Note: At least one image in this entry was found online (probably at an auction site) and saved for personal use. And then the Database project came along! If you recognize your image we'd like to have your permission and would love to give you credit for your work. Please contact us through Site Info > About in the main menu up top.]
Faux parody catalog edited and published by Mark Martin.
Two-color covers, some interior color.
There may be more contributors than listed above.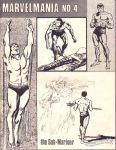 Fanzine from the Marvel Comics fan club.
Special Harlan Ellison issue.  Three interviews with Ellison.  Comic strip adaptations by Bret Blevins of "Basilisk" and "Soldier" by Kerry Gammill.   A photo guide to Ellison Wonderland, and more.   There also exists a limited signed edition of 200 copies.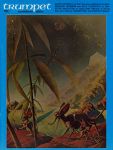 Features include portfolios by Hannes Bok and Stephen Fabian, and Harlan Ellison on 2001 A Space Odyssey.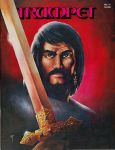 Features include portfolios by Stephen Fabian and Robert Kline.  Also included is Ellison's "Repent Harlequin! Said the Ticktockman," with illustrations by Tim Kirk.  
Trumpet became Nickelodeon #1 in 1975 after Tom Reamy became embroiled in a publishing deal with Nostalgia Inc. that didn't turn out as he had hoped or expected or been led to believe. 
Trumpet #12 would be published in 1981, following the publication of Nickelodeon #1 and #2, when Ken Keller tried to resurrect the title.  It would be the final issue.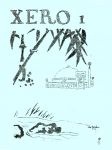 Xero was a key building block in the creation of comics fandom. Produced by Dick and Pat Lupoff with Bhob Stewart (uncredited), it was a widely circulated science fiction fanzine that began to examine comic books thru the pivotal series "All In Color For A Dime."  Those articles help focus the attention of would be comic fans in comic books, and the entire series was later reprinted in book form. Xero went on to win a Hugo, and some of the articles were reprinted many years later in a hardback book. In Flyer #5, the supplement to Xero, Dick Lupoff mentioned that the circulation of the zine was 160 copies. No copies were for sale, and no subscriptions were ever accepted. It was only available by direct mailing with recipients getting one free first time copy, and you only got subsequent issues by trading your zine for it, or writing letters of comment (long letters, not just post cards and thank you notes), or writing articles for the publication. 38 pgs, mimeographed on twiltone paper, side-stapled. Contents include:
Cover by Joe Sanders who never became famous for his art, but became a highly regarded science fiction critic and scholar.
"Xerogenisis" Editorial by Dick Lupoff
"The Insidious Mr. Word" book review by Pat Lupoff
"Psycho" movie review by Harlan Ellison "Frankly, I had the shit scared out of me."
"The Worlds of Titus Groan" book review by Pat Lupoff
"Crossword Horror" crossword puzzle by Frank Arthur Kerr
"And All in Color for a Dime - The Big Red Cheese" 1st installment of this influential series of articles on comic books by Dick Lupoff with spot illoes by T. Heif (tracings by Dick, Pat or Bhob Stewart)
"Reverberations of the Rumble" letters from Hal Shapiro, Harry Warner Jr, Pat & Dick Ellington, Earl Kemp, Don Ford, Joe Sanders, Rory Faulkner, Lew Forbes, Ted PaulsF. H. Busby
"Absolute Xero" another editorial by Dick & Pat