Duffy Vohland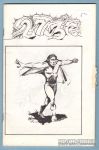 Contents include "The Rise of British Fandom" article, comics news, fanzine recommendations, fandom news, columns, letters, more.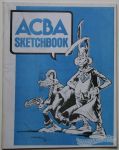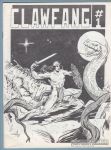 Contents include: "Super Heroes: Levity, Learning and Lightning Bolts" article; profile of illustrator Mario DeMarco; article on the Fleischer Superman cartoons; "The Forgotten Heroes: The Avenger" article; fiction; fanzine reviews; more.
Characters appearing include: Captain Marvel, Superman, the Avenger, Hawk & Dove, Howard the Duck, Batman, Vision, Deathlok, Dracula
Offset?, saddle-stitched.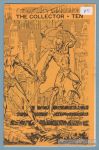 Contents include: articles on Deadman, reader participation in fanzines, and Flash Gordon; comics news; letters; more.
Characters appearing include: Deadman, Flash Gordon, Ming the Merciless, Daredevil, the Creeper
Offset, saddle-stitched.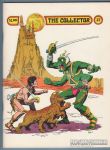 Contents include: article on Edgar Rice Burroughs adaptations from DC Comics (Tarzan, Korak, John Carter); "The Legacy of Edgar Rice Burroughs" article; a look at ERB character Ghek; an eight-page NoMan story by Pinkoski (T.H.U.N.D.E.R. Agents); portfolio of western art by Don Newton; a Greenhorn comic by Hanley (Marvel/DC parody); interview with Gray Morrow; eight-page "J Series" comic by Ditko; letters (Russell Myers, others); more.
Characters include: John Carter, Dejah Thoris, NoMan, Ghek, Darkseid, Glorious Godfrey, Desaad, Kalibak, Batman, Captain Marvel, Broom-Hilda, The Old Witch (EC Comics)
Offset, some interior color, saddle-stitched.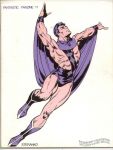 Interview with Jim Steranko.
[Note: At least one image in this entry was found online (probably at an auction site) and saved for personal use. And then the Database project came along! If you recognize your image we'd like to have your permission and would love to give you credit for your work. Please contact us through Site Info > About in the main menu up top.]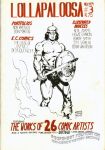 Numbered edition of 500.
Published by Mitch O'Connell?
[Note: At least one image in this entry was found online (probably at an auction site) and saved for personal use. And then the Database project came along! If you recognize your image we'd like to have your permission and would love to give you credit for your work. Please contact us through Site Info > About in the main menu up top.]