Dick Ayers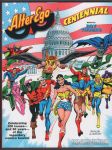 Roy Thomas on DC in the '80s; origins of Alter-Ego; tributes; The 1964 Super Hero Calendar; Fawcett Collectors of America; more.

Perfectbound book.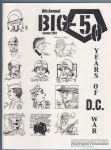 Fanzine celebrating 50 years of war comics as published by DC. The wraparound cover is loaded with cartoonist portraits and self-portraits. Many of those artists also get one- and two-page articles inside about their military experience and comics work (plus new artwork).
There's also a full-color centerspread painting of the USS Stevens by Sam Glanzman.
There may be other contributors not listed above.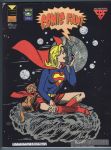 Fanzine put together by Jim Main, Sam Gafford and Richard Sullivan. Contents include: article about Ramona Fradon; article on the Harvey Thriller series; a profile of Don Newton; a tribute to John Carbonaro; article on Charlton Premiere; article on Archie Adventure heroes; article on the early appearances of Ant-Man; article about Nick Cardy; a Silver Age-themed portfolio by Larry Blake; article on the Silver Age Superboy; article on Marvel's Captain Marvel; 2009 Stumptown Comics Fest photo report; 2009 SPACE report (lots of photos); lots of mainstream and small press comic reviews.
Characters appearing in fan art include: Supergirl, Herbie the Fat Fury, Vision, Deadman, THUNDER Agents, Green Goblin, Bee Man, Jigsaw, Spyman, the Fly, Shield, Fly Girl, Hangman, Black Hood, the Web, Aquaman, Mera, Metamorpho, Justice League of America, Teen Titans, Angel and the Ape, Ant-Man, Wasp, Wonder Girl, Bat Lash, Prowler, Batman, Robin, Black Panther, Green Lantern, original Avengers, Fantastic Four, Flash, original X-Men, Superboy, Krypto, Captain Marvel, Legion of Super-Heroes
Small Press Syndicate / United Fanzine Organization memberzine.
Perfect bound.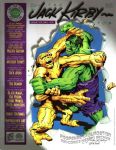 Interview with Dick Ayers plus one with Kirby and Walter Gibson.
[Note: At least one image in this entry was found online (probably at an auction site) and saved for personal use. And then the Database project came along! If you recognize your image we'd like to have your permission and would love to give you credit for your work. Please contact us through Site Info > About in the main menu up top.]