Bruno Issaly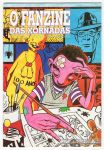 The official magazine of the 8th Xornadas de B.D. de Ourense comics festival in Galicia (Spain). Contains comics, an interview with Fernando Vieira, and articles about comics and zines.
Coordinated by Henrique Torreiro.
Saddle-stitched, b&w interiors.
Also came with a four-page English supplement that translates the comics in this issue.