Anthony Vukojevich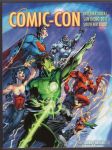 Contents include pieces on the history of comics fandom (with many fanzine profiles and scans), Lee & Kirby, anniversary tributes (Fantastic Four, Antonio Prohias' Spy vs Spy, comics in 1986, Watchmen, Dark Horse Comics, SLG, Bone), more.

Appearances in art by Fantastic Four, Justice League of America, Stan Lee, Jack Kirby, Galactus, the Watcher, Avengers, Inhumans, Black Panther, Sub-Mariner, Silver Surfer, Dr. Doom, Mole Man, Annihilus, Skrulls, Hulk, Spy vs Spy, Batman, Rorshach, Dr. Manhattan, the Comedian, Maus, the Joker, Boba Fett, Hellboy, Ghost, Predator, Concrete, Usagi Yojimbo, Groo, Conan, Willow, Alien, R2-D2, C-3PO, Stormtrooper, Milk & Cheese, Dr. Radium, Bone and more.
Printed in blue ink throughout with full-color covers and inside covers. Heavy stock cover, glossy interiors, saddle-stitched.