Richard Corben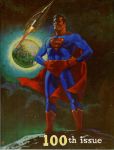 Editorial features include:
Cover by Don Newton.
 "THE KEYHOLE" by Hamilton Benedict.  "Koenig on Star Trek" by Walter Koenig. 
"An Index to SFCA" (a complete list of SFCA publications) by Larry Bigman.  
"RBCC INFORMATION CENTER" by Raymond Miller.  Centerspread by Robert Kline.  
"PREMIUM CLASSICS" by Rex Miller. 
"COMIC COLLECTOR'S COMMENTS" by Howard P. Siegel, including a FANDOM PROFILE of Rex Miller. 
"CRITIQUE" fanzine and comix reviews by Mark Burbey, Orlando Falcon, Gary Wilson, Jason Leeds, Jack Reid, and James Van Hise.  
"THE WILLIAMSON COLLECTOR" by JVH and Larry Bigman.  "SCIENCE FICTION IN REVIEW" by JVH. 
"BLASTS FROM THE READERS" with a letter from Andy Warner.
Ads for: 
COMIC BOOK PRICE GUIDE 3rd edition
COMIC BOOK RETAIL VALUES 1973-1974
COMIC MEDIA #8 and #9
EAST COAST COMIX reprint: Tales From the Crypt #46
EC LIVES!
ETCETERA #2
ERBDOM
FANAZINE 
FANTASTIC EXPLOITS #15 thru 23
FANTASTIC FANZINE SPECIAL #2
FIGHTING HERO COMICS #14
FINDERS KEEPERS #2
FLASHBACK #2
GOLDEN FUNNIES
GRAPHIC ILLUSIONS #1
JACK KIRBY'S GODS posters
MARVEL COLLECTOR'S HANDBOOK #1
MARVEL TIMES #3
MR. A. #1
PHANTASMAGORIA #1-3
PHASE #1
REMEMBER WHEN
SERIAL PICTORIAL Vol. 1-8
SPIRIT SECTION reprints
STYX #2 
SUPERSTAR COMICS #2
THE BEST OF VIRGIL FINLAY
THE BUYER'S GUIDE FOR COMIC FANDOM
THE COLLECTOR #27 and a poster of the cover by Robert Kline
THE COLLECTOR'S HANDBOOK Vol. 4
THE COMET #1
THE COMIC READER
and 100th issue congratulations ads from
TCR Publications (The Comic Reader), 
Charlton Comics, and Bill Devine.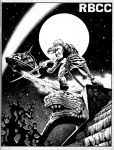 Editorial features include:
Front and back covers by Stephen Fabian.
Part 2 of "Maxor of Cirod" by John Adkins Richardson, reprinted from Fantastic Exploits #21. 
"RBCC INFORMATION CENTER" by Don Rosa. 
"A Look at SPACE: 1999" by Thomas D.N. Zaegner, Mark Burbey, and James Van Hise. 
"CRITIQUE" fanzine and comix reviews by JB Clifford Jr and JVH.  
"Jawsmania Strikes!" compiled by JVH.  
"I Acted on 'Impulse'" by Della Hawks. 
"THE EC ARTIST COLLECTOR" by JVH.  
"Orlandoncon" by JB Clifford Jr.  
"Glasses," a one-page strip by Alan Hanley. 
"Caged Animal," a 7-page werewolf strip by Kerry Gammill. 
"DELL COMICS ARE GOOD COMICS" by Jeff Gorrell.  
"BLASTS FROM THE READERS."
Ads for:
DOC #1 (Doc Savage fanzine)
MEDIASCENE
MIAMICON 1
NOVA SCIENCE FICTION #1
ROBERT E. HOWARD'S CONAN LP
THE BUYER'S GUIDE FOR COMIC FANDOM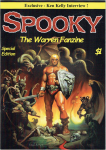 This final issue of Spooky features an interview with Warren cover artist Ken Kelly. Richard Corben and Nick Cuti each contribute a short anecdote of their Warren years.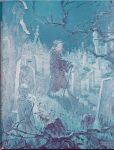 EC fanzine.  Two printings exist of this issue.  The first printing has matte cover stock, and the second printing has glossy cover stock.  
1st printing: 2500 copies
2nd printing: 2000 copies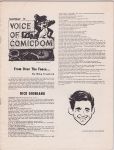 Major format change from unstapled newsletter to saddle-stitched zine with more pages and heavier paper.  Interview with Dick Giordano by Mike Friedrich, article about King Features Syndicate by Rudi Franke, Parts 6, 7 and 8 of Richard Corben's first published strip, "Monsters Rule," graphic critique of Will Eisner, and another strip by Corben called "The Lure of the Tower."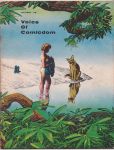 Wrap-around cover by Richard Corben, first printing of first half of "Rowlf," Corben profile by Rudi Franke, and a heavily illustrated Graphic Critique of Frank Frazetta.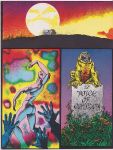 Final issue of Voice of Comicdom, devoted solely to the 2nd and last chapter of "Rowlf."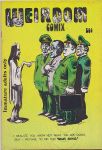 With this issue Weirdom Illustrated continued as an underground comic.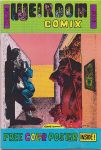 Formerly published as a fanzine, Weirdom Illustrated.
Features a free poster by Richard Corben. Also features a complete reprint of Corben's "Monsters Rule" strip that originally appeared in Voice of Comicdom.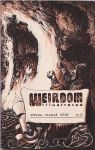 Original printing of "The Plague," scripted by Dennis Cunningham and illustrated by Richard Corben, with a two-tone, wrap-around cover by Corben.  
Also includes another installment of a 2-page feature titled "Accent on EC."
"The Plague" was later reprinted by Dennis Cunningham as an underground comic, and by Bill Leach as a fanzine-sized edition with a new cover by Corben.