GB Love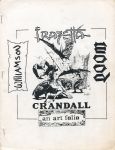 Dana Marie Andra: "I was writing for the RBCC as Mark Burbey, and doing occasional graphics and whatnot.  FRAZETTA, WILLIAMSON, WOOD, CRANDALL - AN ART FOLIO was an unofficial SFCA publication, financed by G.B. Love. It was a bootleg project inspired by THE MAGIC OF FRANK FRAZETTA and MORE MAGIC OF FRANK FRAZETTA. G.B. Love, Andy Warner, and I selected the artwork to include. (Jim Van Hise may have been involved, as well.) I designed and created the cover, and collated the printed copies. The address in the ad was where I lived with my parents. G.B. didn't want it to be associated with SFCA, for obvious reasons."  
Ad from RBCC #84.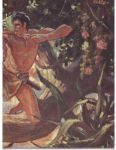 [Note: At least one image in this entry was found online (probably at an auction site) and saved for personal use. And then the Database project came along! If you recognize your image we'd like to have your permission and would love to give you credit for your work. Please contact us through Site Info > About in the main menu up top.]
Issue is comprised of 21 one-side pages, so there are only 21 pages of actual material.
It was Rocket's Blast for the first 28-issues, before merging with The Comicollector as of issue #29.
Batman cover by Ray Miller. "Candid Comments" by Calvin Castine, who was an 18 year old writer for SICK magazine. "Rocketeer Gossip" by Rick Weingroff (5 pages). Reprint of a BLACK HOOD cover and a FLAGMAN splash page.
Fighting Yank cover by John Fantucchio. "Rocketeer Gossip" by Rick Weingroff. Column by Calvin Castine.  A short piece about Ditko leaving Marvel.  
Nightmare & Sleepy cover by Rich Buckler. "Rocketeer Gossip" by Rick Weingroff. Column by Ray Miller. Letters column includes a letter from Roy Thomas. Reprint of a newspaper article on comic collector Gene Arnold.
Features an interview with Harvey Kurtzman by Alan Hewetson, and letters from Roy Thomas, Irene Vartanoff, and Mike Raub.  
Issue features a newspaper article about fan and dealer Dave Kaler.
[D.D. Ensign = Don Ensign? --Rb]
Issue features a newspaper article about lawsuits over the name "Captain Marvel."