William Reynolds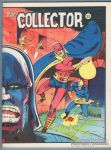 Contents include: "The Real Jack Kirby" article; "Jack Kirby: All Father Man" article; "Green Beam" comic (Green Lantern/Flash spoof) by Hanley; funny animals/Carl Barks article; profile of artist Donald Wong; The Flying Dutchman article; a memorial to Pittsburgh talk show host Ed King; crossword puzzle; letters; more.
Characters appearing include: Darkseid, Guardian, Mister Miracle, Big Barda, Captain Marvel/Tom Tyler, Warlock, Captain America, Red Skull, the Shadow, T.H.U.N.D.E.R. Agents, Dynamo, NoMan, Menthor, Superman, Batgirl, Spider-Man, Dr. Strange, Batman
Offset, some interior color, saddle-stitched.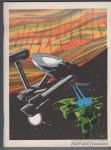 Contents include: interview with Walter Koenig (Ensign Chekov); "Star Trek Revisited" article; production drawings for the Star Trek animated series; three articles on the Captain Marvel family, villains and 1940s serials; one-page profile of Kurt Schaffenberger; a Collector cover gallery; two pages of Zero Hero by Harvey; four-page Steve Ditko comic; "A Short History of Pulp Fandom" article; "The Heroes of Nostalgic Literature: Pulps vs Comics" article; article on the resurrection of Will Eisner's Spirit; article on the Perry Rhodan series; 10-page Greenhorn comic by Hanley; letters (Bill Gaines, others); more.
Characters include: William Shatner/Captain Kirk, Leonard Nimoy/Mister Spock, Nichelle Nichols/Lt. Uhura, USS Enterprise, the Demon, Superman, Captain Marvel, Sivana, Captain Marvel Jr., Mary Marvel, Superman, Mr. Mind, the Shadow, Doc Savage, the Spirit, Lightray, Darkseid, Mister Miracle, Big Barda, Alley Oop
Offset, some interior color, saddle-stitchd.