Walt Taylor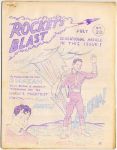 All-ditto issue.  (8 pages blank.) 
Editorial features include:
Captain Marvel cover by Howard Keltner.   "THE FEATURE" profiles Dave Bibby.  "ROCKETEER GOSSIP" by Rick Weingroff.  "Justice by Lightning," article about Captain Marvel by John Ferrazzano with art by P. Alfieri (and "mastered" by Buddy Saunders).   Green Lama Pin-Up by Raymond Miller.
"The Rise of the Atomic Knights" by Walt Taylor with art by Alan Weiss.   "Captain Marvel Comic Books from Spain" by John McGeehan.  "THE BEST OF S-F" — Bob Harner 3rd reviews "Some Will Not Die" by Algis Budrys.  "LETTERS TO THE EDITOR" from Stan Lee, letter from Jerry Bails (about NebraskaFan Meeting), Carter De Paul, Robert Malisani, Bill Spicer, and Fred Bronson. 
Ads for: 
BLACK STAR #1
COMICDOM #1 
FIGHTING HEROES #4
KOMIK HEROZ OF THE FUTURE #2
STAR #1