Victor Moscoso

[Note: At least one image in this entry was found online (probably at an auction site) and saved for personal use. And then the Database project came along! If you recognize your image we'd like to have your permission and would love to give you credit for your work. Please contact us through Site Info > About in the main menu up top.]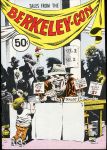 "Tales from the Berkeley-Con," underground comic format program book published by Last Gasp/Rip Off Press.  Wrap-around cover by Rand Holmes.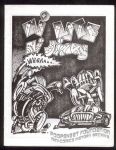 [Note: At least one image in this entry was found online (probably at an auction site) and saved for personal use. And then the Database project came along! If you recognize your image we'd like to have your permission and would love to give you credit for your work. Please contact us through Site Info > About in the main menu up top.]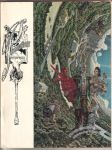 Remarkable publication from the team of Jim Vadeboncoeur, Al Davoren and Bud Plant. The most notable feature, however, is undoubtedly the 32 pages devoted to Robert Crumb. These pages contain a long interview and a nice selection of rarely seen art (including "Roberta Smith, Office Girl" strips).
80 pages plus fold-outs.
There may be more contributors not listed above.