Tom Mason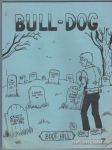 Contents include: "Dan O'Neill and Odd Bodkins" article; a one-page tribute comic, "Bod Oddkins"; an interview with fictional comic strip star Casey Ruggles; articles on "Terry and the Pirates" and Warren Tuft's "Lance"; comic strip news; letters from Fredric Wertham M.D.; sale lists; more.
Offset/mimeo, side-stapled.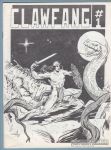 Contents include: "Super Heroes: Levity, Learning and Lightning Bolts" article; profile of illustrator Mario DeMarco; article on the Fleischer Superman cartoons; "The Forgotten Heroes: The Avenger" article; fiction; fanzine reviews; more.
Characters appearing include: Captain Marvel, Superman, the Avenger, Hawk & Dove, Howard the Duck, Batman, Vision, Deathlok, Dracula
Offset?, saddle-stitched.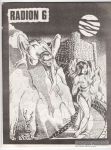 Interviews with Tom Batiuk, Ron Goulart and Michael Whelan; article on Marvel's Eternals; lots of art.
Side-stapled.
United Fanzine Organization memberzine.