Thomas DN Zaegner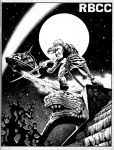 Editorial features include:
Front and back covers by Stephen Fabian.
Part 2 of "Maxor of Cirod" by John Adkins Richardson, reprinted from Fantastic Exploits #21. 
"RBCC INFORMATION CENTER" by Don Rosa. 
"A Look at SPACE: 1999" by Thomas D.N. Zaegner, Mark Burbey, and James Van Hise. 
"CRITIQUE" fanzine and comix reviews by JB Clifford Jr and JVH.  
"Jawsmania Strikes!" compiled by JVH.  
"I Acted on 'Impulse'" by Della Hawks. 
"THE EC ARTIST COLLECTOR" by JVH.  
"Orlandoncon" by JB Clifford Jr.  
"Glasses," a one-page strip by Alan Hanley. 
"Caged Animal," a 7-page werewolf strip by Kerry Gammill. 
"DELL COMICS ARE GOOD COMICS" by Jeff Gorrell.  
"BLASTS FROM THE READERS."
Ads for:
DOC #1 (Doc Savage fanzine)
MEDIASCENE
MIAMICON 1
NOVA SCIENCE FICTION #1
ROBERT E. HOWARD'S CONAN LP
THE BUYER'S GUIDE FOR COMIC FANDOM