Thad Willis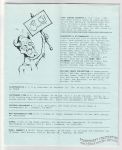 Steve Willis' biweekly newsletter full of comix news and commentary.
Also in this issue: logo art by Chad Woody, "The Incredible Upsidedowns of Old Man Verbeck", CLG Reader Profile of Bob Vojtko, the Bil Keane Watch, the conclusion to the Morty Dog Memorial Library Bad Beatles Countdown.
Saddle-stitched, b&w interiors.
I'm guessing "Thad Willis" is Bryan Willis.