Skip Olson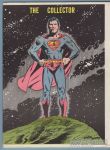 Contents include: indepth reportage on the 1971 Comic Art Convention (including Jim Warren's keynote speech, the "Comedy in the Comics" panel with Sergio Aragones & others, other panels, the Goethe Awards, Harvey Kurtzman's one-man panel, more); article on Kirk Alyn; article on Jim Steranko and Gardner Fox; article on cosplay at the con (with photos of Martin Pasko, Mike Zeck and Mike Nolan in costume); "Was Wertham Right After All?" article; The Flying Dutchman article; fiction; more.
Also contains photos of Frank Frazetta, Harvey Kurtzman, Denny O'Neil, Roy Thomas, Gil Kane, Len Wein, Neal Adams, Kirk Alyn, Gardner Fox, Phil Seuling, Jim Steranko, John Benson, Joe Sinnott, Bill Wilson, John Fantucchio, Kenneth Smith and Billy Graham.
Characters appearing include: Superman, Kirk Alyn, Jimmy Olsen, Lois Lane, Perry White, Clark Kent, Ka-Zar, Golden Age Green Lantern, Captain America (centerspread), Sub-Mariner, the Thing (by Sinnott), Captain Marvel, Green Ring (Green Lantern spoof)
Offset, saddle-stitched, some interior color.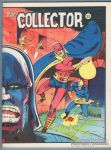 Contents include: "The Real Jack Kirby" article; "Jack Kirby: All Father Man" article; "Green Beam" comic (Green Lantern/Flash spoof) by Hanley; funny animals/Carl Barks article; profile of artist Donald Wong; The Flying Dutchman article; a memorial to Pittsburgh talk show host Ed King; crossword puzzle; letters; more.
Characters appearing include: Darkseid, Guardian, Mister Miracle, Big Barda, Captain Marvel/Tom Tyler, Warlock, Captain America, Red Skull, the Shadow, T.H.U.N.D.E.R. Agents, Dynamo, NoMan, Menthor, Superman, Batgirl, Spider-Man, Dr. Strange, Batman
Offset, some interior color, saddle-stitched.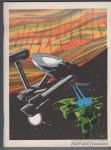 Contents include: interview with Walter Koenig (Ensign Chekov); "Star Trek Revisited" article; production drawings for the Star Trek animated series; three articles on the Captain Marvel family, villains and 1940s serials; one-page profile of Kurt Schaffenberger; a Collector cover gallery; two pages of Zero Hero by Harvey; four-page Steve Ditko comic; "A Short History of Pulp Fandom" article; "The Heroes of Nostalgic Literature: Pulps vs Comics" article; article on the resurrection of Will Eisner's Spirit; article on the Perry Rhodan series; 10-page Greenhorn comic by Hanley; letters (Bill Gaines, others); more.
Characters include: William Shatner/Captain Kirk, Leonard Nimoy/Mister Spock, Nichelle Nichols/Lt. Uhura, USS Enterprise, the Demon, Superman, Captain Marvel, Sivana, Captain Marvel Jr., Mary Marvel, Superman, Mr. Mind, the Shadow, Doc Savage, the Spirit, Lightray, Darkseid, Mister Miracle, Big Barda, Alley Oop
Offset, some interior color, saddle-stitchd.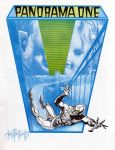 Bill G. Wilson, in Ken Meyer Jr's Ink Stains:
"I did Panorama as a convention one-shot prior to Phil Seuling's '71 con – in fact, there are pics of my dad and Kenneth Smith (!) hawking copies of it at my table in The Collector 24. About the color: I was experimenting with color reproduction as I gained more experience running the ol' A.B. Dick 360 offset press at Prince Printing, and John Fantucchio's great cover gave me the opportunity and inspiration to do even more. Registering color with multiple passes on a single-color press – especially printing its max sheet size of 11×17 – was no mean feat, and the success with Panorama gave me the confidence to explore full four-color, which I then used throughout The Collector from #24-on."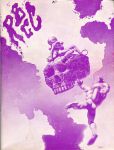 Editorial features include:
Cover by Richard Corben.
"The Super Labors of Love," an article about GB Love reprinted from Tropic May 2, 1971 (the Sunday magazine to The Miami Herald).  
"PULPS — ERA OF ADVENTURE" by James Van Hise and Robert Weinberg.  
"COMIC COLLECTORS COMMENTS" by Howard P. Siegel, including a FANDOM PROFILE of Robert Weinberg.  
"The Dweller" by HP Lovecraft, illustrated by Don Newton (centerspread).  
"HOT AIR FROM A COOL FAN" by Andy Warner.  
"BEHIND THE SCENES AT DC COMICS" by Bruce Hamilton (A talk with Jack Kirby).  
Part 2 of a reprint of "Danny Dreams" by Joe Kubert from 1,000,000 Years Ago #1.
"BLASTS FROM THE READERS" with letters from Dick Mosso and Dave Puckett.
Ads for:
CAPTAIN BILJO PRESENTS #2
CITSATNAF #1 (published?)
COMIC BOOK PRICE GUIDE 1st Edition
COMICS COMMENTARY #5
COLLAGE #1
ECSTASY OBLIVION (published?)
ERBDOM
FANDOM ANNUAL #2
FANTASTIC EXPLOITS #15 thru 21
FANTASY WORLD OF JONES (published?)
FIGHTING HERO COMICS #14
FUNNYWORLD #13
GEORGE 
GOLDEN AGE #4, 7
GRAPHIC STORY MAGAZINE #13
GRAPHITTI #1 (Never published)
HERITAGE #1a
INFINITY #3
MYRON MOOSE FUNNIES
NEBULOUS #1
NUCLEUS YEARBOOK #1
PULP #2 
REALITY #2
THE COLLECTOR #23
THE FANTASY WORLD OF JONES I & II #1 (published?)
THE JEFF JONES PORTFOLIO (Tom Veilleux)
THE MANDRILL COMICS (published?)
THE SPECTRUM #1, 2
TRAIN OF THOUGHT #6
VACATION IN DUCKBURG #2
VULCAN #1
WITZEND #8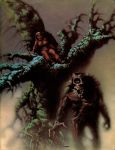 Editorial features include:
Cover by Richard Corben.
"THE CLIFFHANGERS" by Earl Blair, Jr.   
An interview with Kirk Alyn.   
"RBCC INFORMATION CENTER" by Raymond Miller.  
"COMIC COLLECTORS COMMENTS" by Howard P. Siegel, including a FANDOM PROFILE of Biljo White.  
DallasCon 1971 report by James Van Hise.  
Ads for:
A JOB FOR SUPERMAN by Kirk Alyn
AFTERMATH (British adzine)
ANOMALY posters by Robert Kline
ASSORTED SUPERLATIVES #3
CAPTAIN GEORGE PRESENTS
CAPTAIN GEORGE'S WHIZZBANG
COLLAGE
COMIC BOOK PRICE GUIDE 1st Edition
COMIC FANDOM MONTHLY
COMICS AND THEIR CREATORS by Martin Sheridan
COMICS COMMENTARY #6 
EC PORTFOLIO #1
EPOCH FANZINE #1
FANDOM ANNUAL #2
FANTASTIC EXPLOITS #15 thru 21
FIGHTING HERO COMICS #14
FVP #2
HERITAGE #1
HERO PULP INDEX (Robert Weinberg)
JOURNEY INTO COMICS #4-8
KEN BARR poster
LOST AND PROFOUND #1 & 2  
NICKEL LIBRARY
NOSTALGIA COLLECTOR #1
OPARIAN #1
PLG COMICS #1
POX VOBISCUM #1
REALITY #2
SCREAM DOOR #1
SQUA TRONT #1 reprint
THE COMIC WORLD #14 (Robert Jennings)
THE JEFF JONES PORTFOLIO (Tom Veilleux)
TOP NOTCH (published?)
VACATION IN DUCKBURG #1 and 2
WEIRDOM COMIX #14