Richard Kyle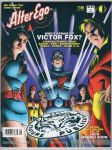 Articles on Victor Fox, the 1939 Superman/Wonder Man controversy, Jack Mendelsohn, letterer Abe Kanegson and Captain Marvel.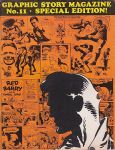 Special issue dedicated to Will Gould and his strip, "Red Barry."
Letters from Jerry De Fuccio, Dick Voll, Stanley Pitt, Alan J. Hanley, Roy Thomas, Jim Harmon, Hames Ware, Jim Jones, Jim Gardner, Larry Ivie, Howard Waldrop, Bill Blackbeard, John Benson, Frederic Wertham.
Results of Graphic Story Magazine Poll.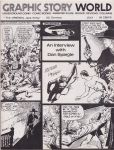 Features an interview with Dan Spiegle.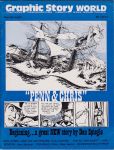 Features an interview with Jim Steranko.  Debut of strip by Dan Spiegle titled "Penn & Chris."
Final issue under this title.  Continues as WONDERWORLD #9.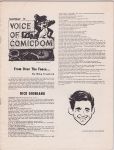 Major format change from unstapled newsletter to saddle-stitched zine with more pages and heavier paper.  Interview with Dick Giordano by Mike Friedrich, article about King Features Syndicate by Rudi Franke, Parts 6, 7 and 8 of Richard Corben's first published strip, "Monsters Rule," graphic critique of Will Eisner, and another strip by Corben called "The Lure of the Tower."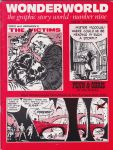 Formerly titled Graphic Story World, and continued same numbering until this new title.
Letters page includes letters from Art Spiegelman, George Metzger, Joe Brancatelli, Jim Jones, Larry Johnson, Mort Walker.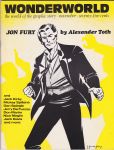 Final issue. 
Letters page includes letters from Ron Haydock, and Michael Cherkas.