R Fiore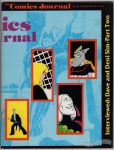 Second part of an interview with Dave and Deni Sim (Loubert).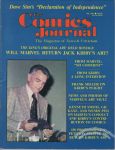 The bulk of this issue deals with Jack Kirby's then-ongoing battle with Marvel Comics over the return of his original artwork. This includes interviews, Marvel warehouse photos, a Frank Miller essay and more.

Also in this issue: Dave Sim's "A Declaration of Independence" essay, Mark Burbey on Keith Giffen's Jose Munoz art swipes, an article on Franco-Belgian comics, Carter Scholz on science fiction, and spot illos by Chas Gillen of Captain America, Conan, Alice the Goon, Popeye, Swee'Pea and Yankee Poodle.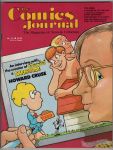 Interviews with Howard Cruse and Dan Day.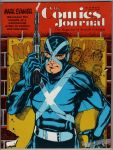 Ken Jones interviews Mark Evanier.
There are a couple of artists I can't identify: Craig and McCarthy.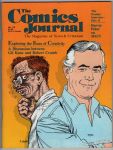 "Maus and Other Topics" by Harvey Pekar, interview with Mark Evanier, Robert Crumb and Gil Kane in discussion.
A few artists are unidentified:  Daredevil on p. 30, Submariner on p. 32, Thor on p. 34, Batman on p. 35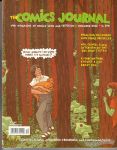 Interviews with Debbie Drechsler and Will Eisner.