Nina Romberg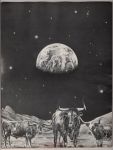 This one came was available in both regular and deluxe editions.
The deluxe edition has a Nick Smith wraparound cover and includes the articles "The Faces Behind the Dallas Fantasy Fair: A Little Background on Bulldog Productions and Its Staff" and "Dallas Fandom: A Partially Personal History" by Edd Vick. Also contains photos from shows past featuring Frank Miller, Dave Stevens, Doug Wildey, Jaxon, Gilbert Shelton, Robert Crumb, Burne Hogarth, Harvey Kurtzman, Moebius, Will Eisner, Sergio Aragones, Denis Kitchen, Dave Sim, Jim Starlin, the Hernandez Bros., Roger Zelazny, Stanislaus Szukalski and many others.
8¼ x 10¾"
Regular edition: 36 pages
Deluxe edition: 32 pages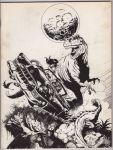 Scheduled guests included Sergio Aragones, Steve Bissette, David Boswell, Chester Brown, Bob Burden, Kurt Busiek, Daniel Clowes, Guy Davis, L Sprague de Camp, Carole Nelson Douglas, Will Eisner, Josh Alan Friedman, Neil Gaiman, Doug Gray, Rick Grimes, Gary Groth, Marc Hempel, Gilbert Hernandez, Jaime Hernandez, Adam Hughes, Jaxon, Denis Kitchen, Todd Klein, Harvey Kurtzman, Terry LaBan, Bob Layton, Jim Lee, Dick Lupoff, Mike Mignola, Lou Mougin, Martin Nodell, Steve Oliff, Tom Orzechowski, Richard Pini, Doug Potter, P. Craig Russell, Dave Schreiner, Mark Schultz, Julius Schwartz, Bill Sienkiewicz, Jim Starlin, Frank Stack, Kim Thompson, John Totleben, Roger Zelazny and many others.
Roughly 8¼ x 10¾".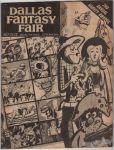 Scheduled guests included Robert Asprin, Peter Bagge, Kyle Baker, Steve Bissette, Mark Bode, Chester Brown, Bob Burden, , Paul Chadwick, Howard Chaykin, Daniel Clowes, L. Sprague de Camp, Colleen Doran, Ben Dunn, Will Eisner, Bill Fitts, Brad W. Foster, Gerhard, Gary Groth, Mark Gruenwald, Gilbert Hernandez, Jaime Hernandez, Burne Hogarth, Adam Hughes, Jaxon, Carol Kalish, Gil Kane, Denis Kitchen, Harvey Kurtzman, Bob Layton, Scott McCloud, Todd McFarlane, Mike Mignola, Richard Pini, Frederik Pohl, Don Ivan Punchatz, Steve Rude, Dave Schreiner, Julius Schwartz, Mark Schultz, Bill Sienkiewicz, Kenneth Smith, Dave Stevens, Rick Veitch, Bill Willingham, Al Williamson and many others.
8¼ x 10¾".