Nancy Ricardo McJacksonstein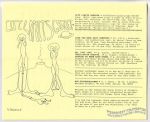 Steve Willis' biweekly newsletter full of comix news and commentary.
Also in this issue: Lynn Hansen on the work of the late Jane J. Oliver, the Bill Keane Watch, more of Gary Usher's Comics Journal Small Press Index, the continuation of the Morty Dog Memorial Library Bad Beatles Countdown.
Saddle-stitched, b&w interiors.