Mike Raub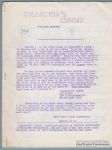 Adzine with sale lists, want lists and fanzine ads for Incredible Fantasy #3 (Heroic #3), Gosh Wow!, On the Drawing Board, Wonderment #3, Statue Comics #2, Adventure Heroes' Hide-a-way #11, and Bombshell #8 & 9.
Edited by Mike Raub and Tony Rutherford.
Ditto, side-stapled.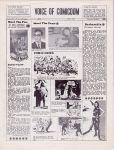 Interview with Al Williamson.  "Meet the Pro" feature about John Romita, Sr.