Mike Ploog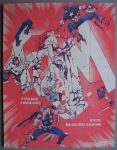 [Note: At least one image in this entry was found online (probably at an auction site) and saved for personal use. And then the Database project came along! If you recognize your image we'd like to have your permission and would love to give you credit for your work. Please contact us through Site Info > About in the main menu up top.]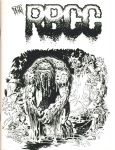 Editorial features include:
Front and back covers by Mike Ploog.
"An Interview with Rod Serling" reprinted from Gamma #1, a science fiction magazine published in 1963. 
Serling obituary by James Van Hise.  
"RBCC INFORMATION CENTER" by Don Rosa. 
"Star Trek: The Tholian Web," story re-told with stills.  
"Houstoncon '75" by JVH. 
"A Houston Mini-Con is Anything But Mini" by JVH. 
Part 1 of "Maxor of Cirod" by John Adkins Richardson, reprinted from Fantastic Exploits #21. 
"Zero Hero" by RC Harvey. 
"DELL COMICS ARE GOOD COMICS" by Jeff Gorrell.  
"COMIC COLLECTORS COMMENTS" by Howard P. Siegel. 
"CRITIQUE" fanzine and comix reviews by John Ellis, JB Clifford Jr, and JVH. 
"BLASTS FROM THE READERS" with letters from M. Thomas Inge and RC Harvey.  
Ads for:
CINEFANTASTIQUE Vol. 4, #1
DEMONS portfolio by Kenneth Smith
DOC #1 (Doc Savage fanzine)
EQUINOX #3
ROBERT E. HOWARD'S CONAN LP
SPACED #1 and 2
STAR TREK '75
THE CONNECTION 
TREK #2
WHIZZARD #7