Mike LaFrance
Inside this issue: Bruce Sweeney's "Underground Station", photo and unveiling of "T.M. Maple", Chicago con report, news, tons of minicomics reviews (including lots of cover scans and art samples), columns, comic strips and more.
I suspect "Arnold Simpson" is a pseudonym.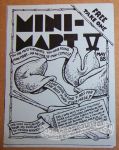 Mini-comics mini-ad zine. This issue's got ads for/by Wayno, Colin Upton, Permanent Press, Scott Nickel, Mike LaFrance, WLH/Sam Henderson, Bob Sheridan, Phil Greene and Matt Youngmark.