Mike Fisher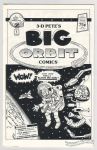 Observational comics mostly having to do with pop culture.
1st printing: ?
2nd printing: 1988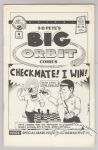 Appearances by Mr. Spock, Marina Sirtis, Green Hornet, Freddy Krueger, Mickey Mouse, Klaatu, Steve McGarrett and others.
Cardstock covers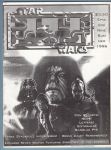 Star Wars-focused fanzine. Contents include: "Five Minutes with Chris Sprouse", SW-themed gag cartoons, and a look at the "Doomworld" story arc in SW comics.
Characters appearing in fan art: Darth Vader, Lando Calrissian/Billy Dee Williams, Miss Piggy, Gamorrean guard, Jabba the Hutt, Muppets, Chewbacca, Ewoks
There may be more contributors than listed above.